Amba Traditional Central Radiator Towel Warmer
$970
$776
T
his traditionally and expertly crafted collection of towel warmers features liquid-filled round bars with traditional finial accents.  They're made of mild steel, with a central "radiator" section, then nickel plated and meticulously polished to a beautiful shine or, at your option available in an elegant brushed finish.  If you have traditional decor this is the perfect complement.  These are liquid filled electric towel warmers with easily replaceable heating elements.  Before release each towel warmer must meet stringent pressure tests. The easily replaceable, UL approved, heating element means you will get years and years of from this towel warmer far beyond its 3 year manufacturer's warranty.  Fully heated in 30-45 minutes.
Features
Liquid-filled mild steel towel warmer nickel-plated in polished or brushed finishes.
Average temperature range 140° F. - 158° F. Heats up 30 to 45 minutes.
25.3" Wide x 35.75" High x 5.375" Deep 341 BTUs / 100 Watts / 0.9 Amps - with center radiator section.
Accessories and timers available.
Built-in thermal cut-out is included, for optimal energy consumption and safety.
UL Approved. 3-Year manufacturer's warranty.
Manufacturer / Video

Amba's stated mission is to bring to the American market a collection of quality products that enhances life style and the spaces in which we live.
Amba's initial focus was upon bringing the comfort of affordable stainless steel electric towel warmers (rails/racks) to North America. They are proud to have achieved this goal.
For 18 years, Amba Towel Warmers have been made of long lasting 100% stainless steel that are offered in different finishes including polished and brushed stainless steel, white and oil rubbed bronze. The wide range of styles across the Amba Towel Warmer Collections, Jeeves, Elory and Amba's other collections are appearing in bathrooms, pool houses, yachts, spas, saunas, and mudrooms across North America.
This achievement led Amba to seek other quality products that enhance life style and the spaces in which we live. Now Amba includes a collection of Italian design Towel Warmers and Heat Radiators by Emmesteel. A compliment to our existing collection of products the Emmesteel Collection offers a range of stylish heating solution and a selection of towel warmers unrivaled in style.
Controls


T
he Amba programmable hardwired timer is compatible with all Amba models, including Jeeves, Antus, Elory, Quadro, Sirio, and Vega. Note that most Elory, Quadro, and Sirio models have the Chronothermostat included.  The 7-day timer handles 40 to 500 Watts, and fits in a standard single or multi-gang electrical box. The timer may be used to replace either a regular switch, or a 3-way switch installation.
Ordering →

P
ilot light switches tell you with certainty that your Towel Warm is "on" during the early stage of the "on" cycle when touch alone may not suffice.  Compatible with every Amba Towel Warmer and most others, as well.  Pilot light is on when the Towel Warmer is on.
Ordering →

P
rogrammable 7-day plug-in timer is compatible with all plug-in towel warmers including Jeeves.  Compatible with every Amba Towel Warmer and most others, as well.  Up to 8 ON/OFF programs per day → program 1 program 2 ... through program 8. Choice of individual days, or blocks of days.
Ordering →

T
he Digital Heat Control has five temperature settings and also serves as an on-off switch.  The face plate is finished in your choice of polished or brushed Stainless Steel.  A "pipe" connection is provided to connect directly to your Amba Towel Warmer.  The DHC is compatible with Emmesteel models including Sirio, Antus, Quadro, Elory, and Vega.  Note: except for the smallest size, Elory, Quadro, and Sirio models have the Chronothermostat included.
Ordering →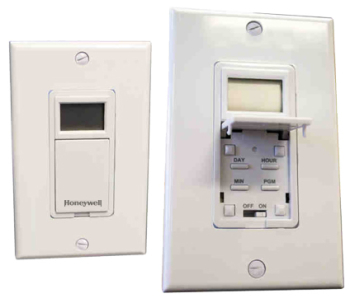 Amba Hardwired Programmable Timer
Details ↑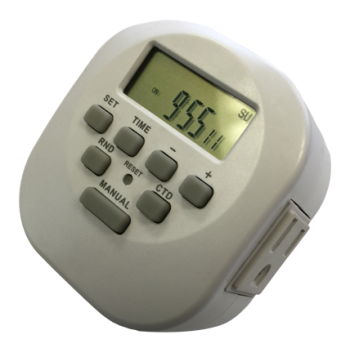 Amba Plug-In Timer
Details ↑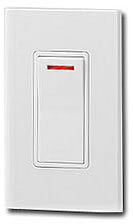 Amba Pilot Light Switch
Details ↑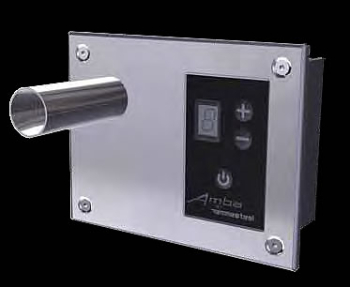 Amba Digital Heat Control
Details ↑
A
mba Towel Warmers all can be operated from a regular 20-Amp switch. But Amba controls offer a greater degree of control and flexibility.

Finishes
Amba Finishes

Every finish is not available in every model.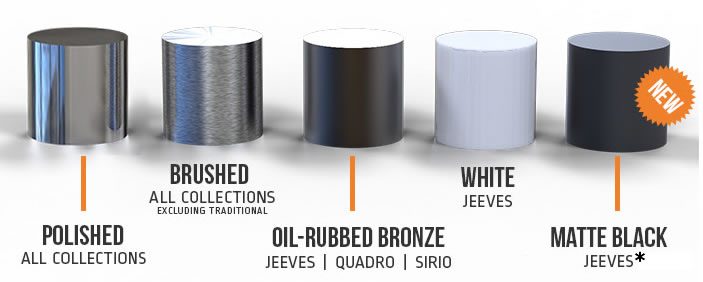 *Jeeves Matte Black stocked models: C, D, E, H, K Straight, L Straight.
*Jeeves Matte Black, special order models: F, I, J, M. Call us for information:
Technical Drawing
Jack Swivel Plug-In Towel Warmer Technical Drawing