Electric Mirror Integrity Savvy Smart Mirror with LCD Multi-Touch 21.5" Display
$6,987.60
$5,939.46
W
ith LED lighting around the perimeter, the Integrity Smart Mirror is a "knock-out" of a mirror and simultaneously a smart device. The screen is a large 21.5" size that comes brilliantly through the mirror when "on" and completely disappears when off thanks to Electric Mirror Iris™ Technology incorporated into the Integrity Smart Mirror. The mirror is a stunner - for use in your bathroom, entry, or living space. Turn it on and it becomes the electronic heartbeat of your home with your entire house under your control and the rest of the world literally at your fingertips with it's intuitive, easy-to-use interface. the software updates and feature additions are automatic downloads by Electric Mirror.
Integrated Motion Sensor learns your room dimensions and recognizes you when you enter, automatically activating Savvy™
The Vivid Video Display is 22" 1080p LCD HD.
Multi-Touch Function allows interaction just as you do with your tablet or phone.
Far-Field Microphone yields superior speech recognition and accuracy - from any angle within the room. It's easy to talk to your digital assistant or compose a post or email.
Audio is driven by a 10 Watt per channel Amp, and stereo hi-fi speakers for crystal-clear sound.
Optional Bose Speaker Package available.
Personalize Your Launcher. Electric Mirror's UI/UX experts have pre-loaded an interface - simply connect your favorite and unlimited apps to the mirror. Or you can download and use your own personal Android launcher.
Savvy™ Streaming: Compatible with all major streaming devices including Google Chromecast, Amazon Fire, Apple TV, and Roku. Simply plug in your device and access its apps. Or upgrade your experience by using Chromecast to mirror (pardon the pun) your phone.
Digital Assistants: Alexa and Google Assistant or newer assistants like Hound and Lyra are all compatible - just download the app and start talking.

Hardware

Android 7.1
1080p (1920 x 1080, 16:9 resolution)
4Gb RAM
BlueTooth 4.0
Wifi: 802.11 b/g/n
1 USB port
Audio OUT for external speakers
Features
LED Lighted mirror with integrated 21.5" multi-touch 1080p LCD 1080p (1920 x 1080 16:9) display disappears when off thanks to Electric Mirror Iris technology. Unlimited app downloads.
Wi-Fi and Blutooth (4.0) enabled for control of smart devices. 50,000 hour panel. 10 Watt integrated AMP with Audio Out for optional external speakers.
On-mirror controls for light and for touch-screen operation. Motion sensor package senses you and turns on when you enter the room. Light color options adjust to 2,700k indoor, 4,600k office, and 6,500k daylight.
Iris™ Mirror glass optimizes screen performance. Display completely contained in 1.75" total depth and disappears into the mirror when off.
Display off - - 36" wide 113 Watts . 42" wide 121 Watts. 54" wide 137 Watts. 72" wide 161 Watts. -- Display on requires 30 Watts additional to each mirror.
Safety-backed mirror. 7-year Manufacturer's Limited Warranty. FCC Compliant. Suitable for damp locations. UL listed in the USA and Canada.
36" x 42" Shipped FREE in about 1 week. Larger sizes are custom made and require 4-5 weeks until they're shipped FREE.
Savvyâ"¢ Features & Benefits
Savvy™ Technology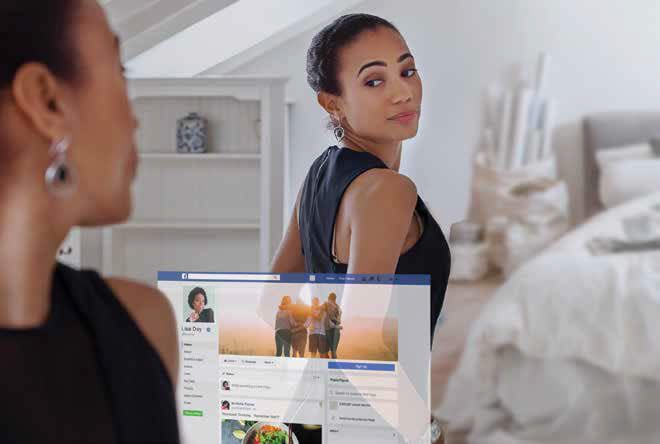 Combining smart technology into amazing products you already want to use, giving you a wonderful, luxurious mirror.
Savvy™ takes smart mirrors to a whole new level.
Compatible with any Android Device
21.5" Display - 1080p (1920 x 1080, 16:9)
Integrated Motion Sensor
Far-Field Microphone
Multi-Touch Display
Iris™ Technology - TV disappears when off.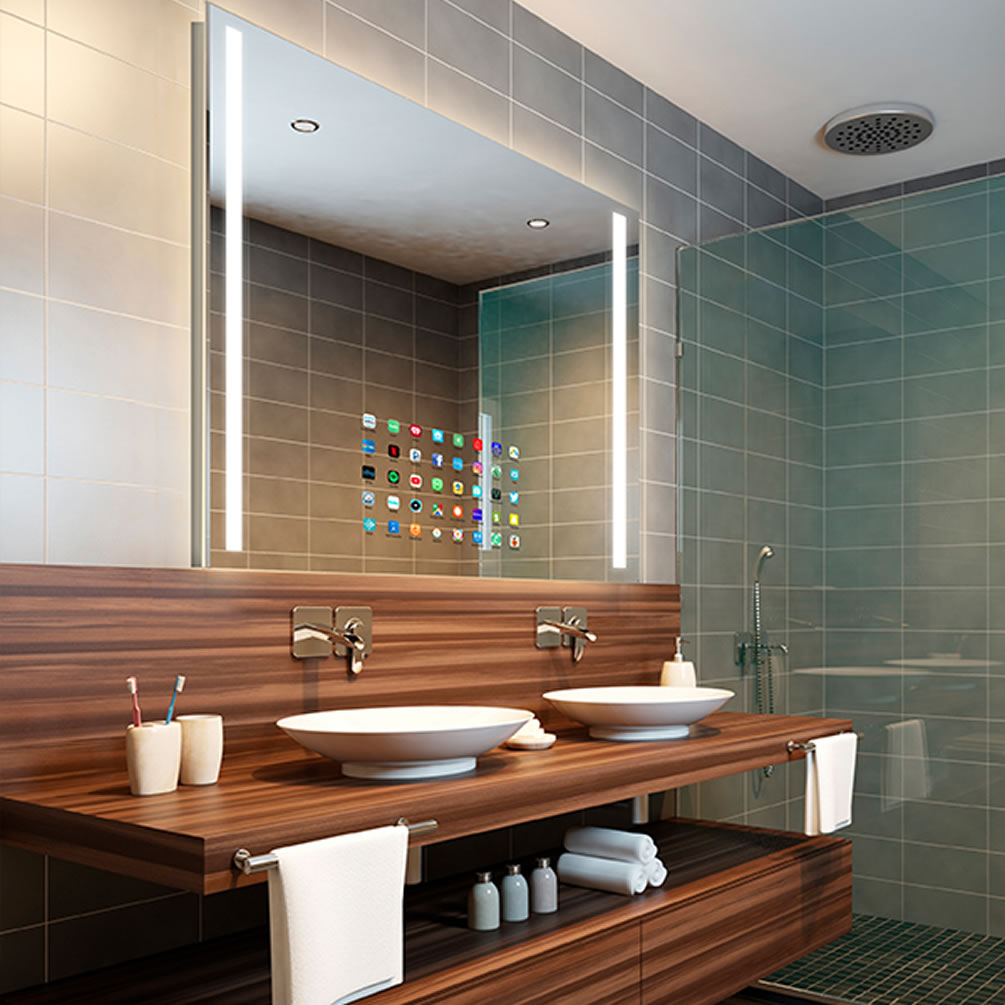 When turned on, the Savvy™ SmartMirror™ becomes the technological heartbeat of your home. When turned off it disappears completely, giving you a stunning mirror to enjoy. Compatible with any Android device, and with a 22" display, you'll have unmatched convenience and efficiency.
Connect Savvy to your smart thermostats, lights, and window coverings and you can adjust your home environment as well as conserve energy.
Link Savvy to your video doorbells, smart deadbolts, yard lights, and security systems - and you can keep your family safe and secure your household.
Your favorite health and wellness apps, downloaded, let you track your exercise and fitness, track your sleep habits, and measure your overall health.
Link Savvy to your email, contacts, calendar, bank accounts, and more. You can multi-task like never before.
Your favorite social media accounts linked to Savvy let you stay in touch and use Savvy's talk-to-text feature to compose and send messages directly from your mirror.
Track your commute and the weather, catch up on headlines, check the stock market, and keep track of time, as you start the day.
Follow your local radio or TV station for sports updates, listen to your playlists, check out the latest viral videos, or just kick back and watch a movie.
Iris® Technology
Iris® Technology
Electric Mirror Iris® Technology is the next generation of entertainment mirror. It comprises a type of mirror glass with a patented technology allowing the image (TV or Video Screen) to shine through the mirror, without any degradation of the image and with minimal glare.
Brightest entertainment/tv/smart mirror viewing experience.
Highest light transmission compared with competitive products.
Lowest level of glare for any Smart/TV mirror.
Newest technology - clearest picture - most consistent optics.
About Electric Mirror
Electric Mirror is leader, globally, in Lighted Mirrors and Mirror TV Technologyâ"¢. They have been serving hospitality and residential customers for over sixteen years with product lines that include Lighted Mirrors,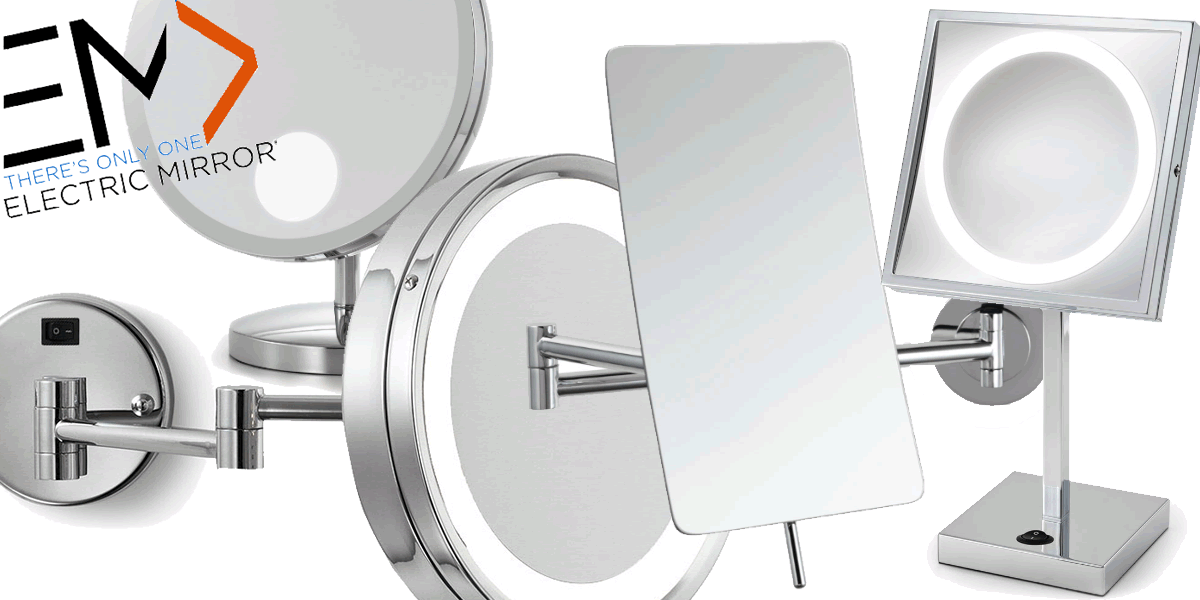 Mirror TVs, Waterproof TVs, Mirrored Cabinets, Corridor Lighting, Wardrobe Mirrors, and
Makeup Mirrors
.  Electric Mirror's mirrors are sold in every continent and in scores of countries around the world.
Selecting Electric Mirror, you can take an important step in reducing your carbon footprint and at the same time, beautifying the world in which we live.  The Electric Mirror commitment to the environment has given rise to their Beautiful World™ Initiative comprising environmentally-friendly technologies that result in products that cut energy costs and maintenance requirements.
Electric Mirror's makeup mirrors easily communicate their flawless luxury to discerning homeowners and hotel guests around the world.
Headquartered in Everett, WA, Electric Mirror employs over 350 individuals.
Installation Summary
Savvy™ Fusion Installation Summary
Mount chassis to wall studs - mounting holes provided.
Mirror lighting can be controlled by an on/off switch, forward-phase dimmer, a timer, or by the Savvy hardware with the light control sensor package.
Display should be plugged in to a 120V unswitched outlet.
Internet connection by Ethernet Cat/5 or Cat/6 cable or built-in WiFi.