Electric Mirror Palette 5x/1x Double Extension Makeup Mirror
$270
$227.75
P
alette is the model designation for this 5x/1x large 9-inch reversible makeup mirror.  The double extension arm will bring the mirror out to approx. 12" from the wall, and it swivels at the wall and at both "knuckles".  The mirror itself rotates on it's connection to the extension arm and rotates in its yoke.  You'd be hard-pressed to find an angle to which this mirror can't be adjusted! Polished Chrome or Brushed Nickel finishes.
Features
Electric Mirror Palette 9" diameter makeup mirror with 5x Magnification power that reverses to 1x normal view. Just flip it over or swing it around with its yoke.
This high quality mirror has a double swivel arm that extends out to apaprox. 12" from the wall. The mounting plate is 1.5" x 4.5" High.
The mirror rotates in its yoke and has three pivot points on the double extension arm - you can adjust it to any virtually any angle.
Your choice of Polished Chrome or Brushed Nickel finishes. The mirror glass itself is silver backed for clarity and brightness.
3-Year Manufacturer's Warranty.
About Electric Mirror
Electric Mirror is leader, globally, in Lighted Mirrors and Mirror TV Technologyâ"¢. They have been serving hospitality and residential customers for over sixteen years with product lines that include Lighted Mirrors,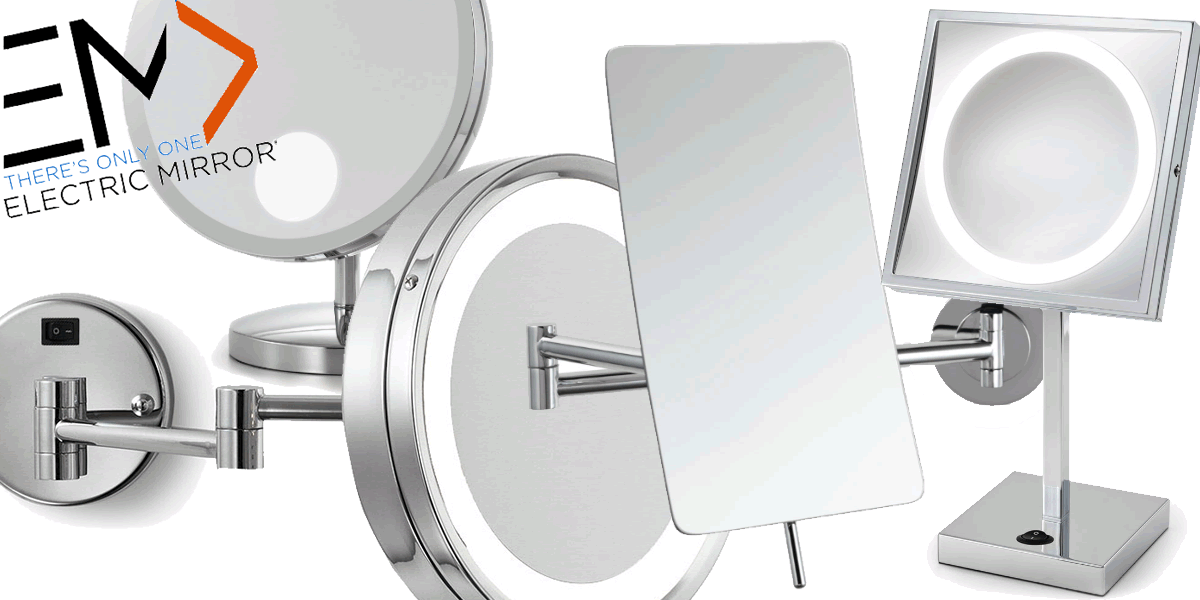 Mirror TVs, Waterproof TVs, Mirrored Cabinets, Corridor Lighting, Wardrobe Mirrors, and
Makeup Mirrors
.  Electric Mirror's mirrors are sold in every continent and in scores of countries around the world.
Selecting Electric Mirror, you can take an important step in reducing your carbon footprint and at the same time, beautifying the world in which we live.  The Electric Mirror commitment to the environment has given rise to their Beautiful World™ Initiative comprising environmentally-friendly technologies that result in products that cut energy costs and maintenance requirements.
Electric Mirror's makeup mirrors easily communicate their flawless luxury to discerning homeowners and hotel guests around the world.
Headquartered in Everett, WA, Electric Mirror employs over 350 individuals.