ClearMirror Electrical Bathroom Mirror Defogger for Installation on Any Mirror
$260
$119
K
eep your Bathroom Mirrors Fog-Free. Stop using a streaky towel, opening drafty windows, using your hair-dryer, or using automotive de-fogging liquids - just so you can use your mirror after a shower!
The Original ClearMirror is an electrical bathroom mirror defogger panel that you cannot see, but which allows you to see in those everyday steamy conditions. It's great for couples - one person can take a hot shower while the other has no problem using the clear, fog-free mirror. No more wiping and re-wiping the mirror, or using your blow-dryer to clear it. It's a subtle yet daily reminder of luxury in your bathroom or spa.
The Original ClearMirror is a very thin heater panel that adheres to the back of your mirror. It can be wired to the same power supply as the bathroom light or exhaust fan. Or it can be wired independently. With the simple flip of a switch, the pad heats automatically, preventing condensation on the mirror - leaving the reflecting surface fully visible. You can also put it on a timer to pre-heat for your daily routine.
The Original ClearMirror is UL Listed, C-UL listed, and tested to CSA international standards. Uses standard 110/120 volts.
The Original ClearMirror has been tested and used for industrial applications for over 30 years. A five-year replacement warranty against product defects is provided. The Original Clear Mirror comes in 3 sizes: 12" x 12", 14" x 14" and 20" x 20".
Features
ClearMirror Original Defogger Panel is a self-stick electrically heated panel for installation on the back of bathroom mirrors. Not for use in the shower.
It can be powered by your bathroom light switch or independently wired - either way, keeping your mirror fog-free, even while your partner is still in the shower.
Application is peel-and-stick - with 24" 18-gauge wire leads located at top center. Low power consumption - Sizes: 12" x 12" - 25 Watts, 14" x 14" - 35 Watts, or 20" x 20" - 65 Watts.
Installed in thousands of homes, hotel rooms, yachts, and motor homes, all around the world.
Made in the USA and extensively UL tested and listed, with a 5-Year manufacturer's warranty.
PDF Installation Instructions
Original Clear Mirror Installation Instructions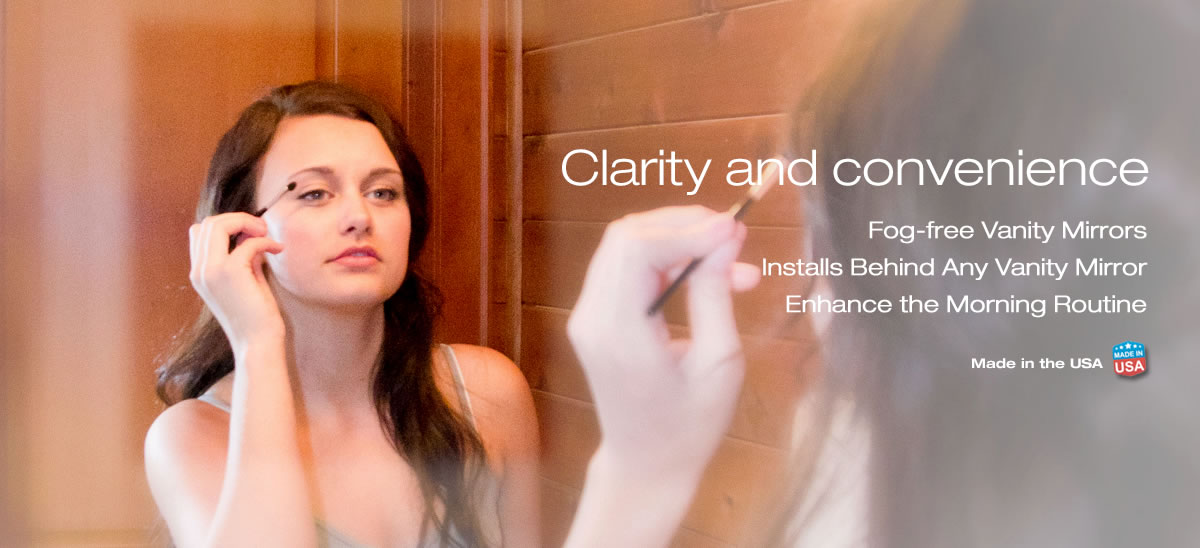 Installation Instructions