Amba Jack 6 Bar Swivel Towel Warmer
$360
$239.40
E
ach Jack 6 bar towel warmer is made from stainless steel, not chrome plated, and available in either brushed or polished finishes. They operate efficiently, using the power of one or two light bulbs and there's an internal thermostat and an internal safety cutout. Besides keeping your towels and bathrobes toasty warm near your bath or shower, they can be used at pools, saunas, spas, or boats. These Towel Warmers help keep the environment mildew-free.
The bars on this unit swivel through 180°; they can be rotated perpendicular to the wall, then pushed back flat against the wall - on either side of the vertical.
Amba towel warmers are approved by Underwriters Laboratories and come with a 2 year limited warranty.
Returned units carry a 10% restocking fee. This does not apply to exchanges.
Features
Made of stainless steel - in your choice of brushed or polished finish.
Average temperature range 136°F (58°C).
Includes built-in thermostat and thermal cut-out for optimal energy consumption and safety.
Plugs directly into your wall outlet - three prong.
6 Crossbars - that swivel through 180°.
60 Watts / 0.55 Amps / 205 BTUs.
Size: 22" Wide x 29" High x 3.9" Deep.
2-Year manufacturer's warranty.
Manufacturer / Video

Amba's stated mission is to bring to the American market a collection of quality products that enhances life style and the spaces in which we live.
Amba's initial focus was upon bringing the comfort of affordable stainless steel electric towel warmers (rails/racks) to North America. They are proud to have achieved this goal.
For 18 years, Amba Towel Warmers have been made of long lasting 100% stainless steel that are offered in different finishes including polished and brushed stainless steel, white and oil rubbed bronze. The wide range of styles across the Amba Towel Warmer Collections, Jeeves, Elory and Amba's other collections are appearing in bathrooms, pool houses, yachts, spas, saunas, and mudrooms across North America.
This achievement led Amba to seek other quality products that enhance life style and the spaces in which we live. Now Amba includes a collection of Italian design Towel Warmers and Heat Radiators by Emmesteel. A compliment to our existing collection of products the Emmesteel Collection offers a range of stylish heating solution and a selection of towel warmers unrivaled in style.
Finishes
Amba Finishes

Every finish is not available in every model.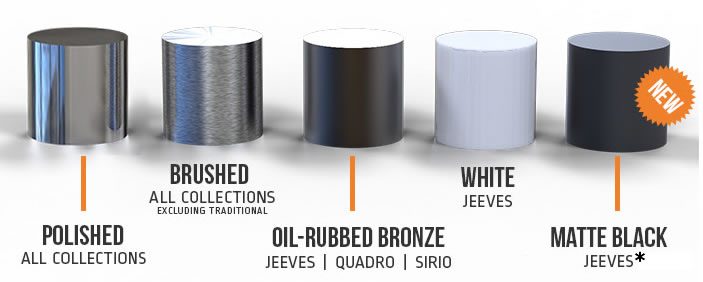 *Jeeves Matte Black stocked models: C, D, E, H, K Straight, L Straight.
*Jeeves Matte Black, special order models: F, I, J, M. Call us for information:
Technical Drawing
Jack Swivel Plug-In Towel Warmer Technical Drawing