JVD Cosmos Tubular Arm 5x LED Cosmetic Mirror, 5-yr. Lithium Battery, Chrome or Gloss Black & Chrome
$225
$190.80
T
ruly unique in concept, design, and quality, the JVD makeup mirror requires no electrical connection. Touch the mirror to turn it on and the bright LEDs light up instantly, and shut themselves off after 3 minutes. The replaceable Lithium Ion battery lasts 3 to 5 years with normal usage. The construction of this make up mirror is superb - heavy chrome plating over solid brass. The Gloss Black & Chrome has a black mirror back. The articulating arm has 4 joints (call them pivot points) for adjustment to any angle conceivable. Designed, and beautifully made in France, the mirror will be shipped FREE, directly to you in about 10 days.
Features
JVD Makeup Mirror with the advantages of a Hardwired mirror and none of the installation expsnse. Battery powered with a standard LR20 Lithium battery available "everywhere", the battery should last 3 to 5 years with normal use.
5x Magnification power is augmented by bright LED halo lighting. A touch of the mirror turns it on, after which it turns itself off after 3 minutes. Not long enough? Just touch it to instantly re-light.
The construction of the mirror comprises heavy duty chrome plating over a solid brass frame, yet with a svelte appearance. The Gloss Black / Chrome edition has a black housing for the mirror and chrome frame.
The articulating swing-arm system pivots at four points. There's no flimsy ball joint, but rather a double-support, pivoting rack at the rear. The mirror folds back to a minimum 3.9 inches from the wall, with a maximum extension of 13.8". The mirror diameter is 8.9".
CE Approved, and with a 2-year Manufacturer's warranty. Repair by the manufacturer available for 10 years. Designed and made in France and shipped FREE directly to you in about 10 days.
French Design and Manufacture
From Designer Jean-Guy de Russé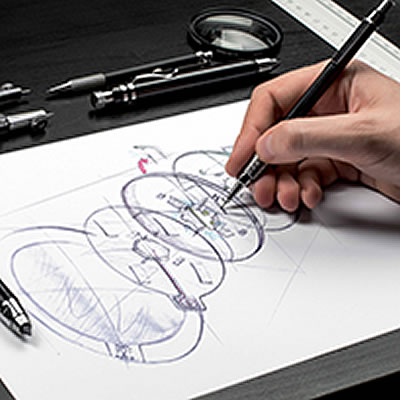 Les miroirs nous invitent à rentrer dans une nouvelle dimension. La fonction grossissante d'un miroir nous permet de rentrer dans un nouvel univers où tout est plus grand. J'ai voulu que ce voyage nous emmène encore plus loin et j'ai conçu ce miroir en m'inspirant d'une soucoupe volante. J'ai intégré un « moteur » révolutionnaire avec un fonctionnement sur batterie unique sur le marché. J'ai structuré l'ensemble autour d'une base chrome à laquelle j'ai ajouté une couronne de lumière à l'image de l'anneau de Saturne. Et enfin, j'ai ajouté un interrupteur capacitif presque magique. -
Jean-Guy de Russé
English
:
Mirrors invite us to enter a new dimension. The magnifying function of a mirror allows us to enter into a universe where everything is bigger. I wanted this voyage to take us even further, so I drew inspiration from flying saucers in designing this mirror. I added a revolutionary battery operated mechanism, unique on the market. I structured the whole thing around a chrome base, to which I added a ring of light like the ones around Saturn. And lastly, I added an almost magical capacity switch. -
Jean-Guy de Russé