JVD Fiesta 3x/1x Reversible Free Standing Vanity Mirror - Black or Chrome
$97
$84.76
T
h Fiesta vanity mirror by JVD free-standing with 3x magnification. The mirror both rotates and flips over within the yoke, switching from 3x to 1x - normal view. The mirror diameter is 7.9" and the overall width including the yoke is 9". Overall, the total height is 13.4" and the padded and weighted base is 5.1" in diameter. Your choice of Matte Black or Polished Chrome finishes. Designed, and beautifully made in France, the mirror is shipped FREE, by air express directly to you from the warehouse in Mexico, in about 10 days.
Features
JVD Fiesta Vanity Mirror is a free-standing, non-lighted 3x Magnification/1x reverislble Vanity, Makeup, or Cosmetic Mirror. Finished in Polished Chrome or Matte Black.
The construction of the mirror includes heavy chrome plating over a solid brass frame on a weighted and padded base.
The mirror has an overall height of 13.48" while the mirror itself is 7.9" in diameter. The weighted/padded base has a 5.1" diameter.
CE Approved, and with a 2-year Manufacturer's warranty. Repair by the manufacturer available for 10 years.
Designed and made in France and shipped FREE directly to you from the Mexico warehouse in about 10 days.
French Design and Manufacture
From Designer Jean-Guy de Russé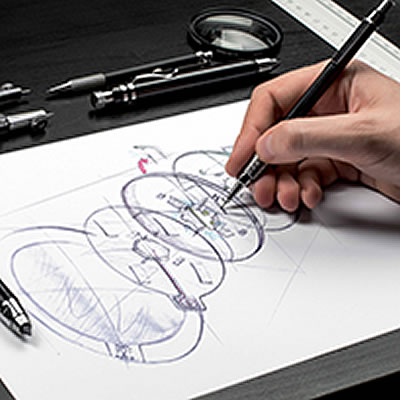 Les miroirs nous invitent à rentrer dans une nouvelle dimension. La fonction grossissante d'un miroir nous permet de rentrer dans un nouvel univers où tout est plus grand. J'ai voulu que ce voyage nous emmène encore plus loin et j'ai conçu ce miroir en m'inspirant d'une soucoupe volante. J'ai intégré un « moteur » révolutionnaire avec un fonctionnement sur batterie unique sur le marché. J'ai structuré l'ensemble autour d'une base chrome à laquelle j'ai ajouté une couronne de lumière à l'image de l'anneau de Saturne. Et enfin, j'ai ajouté un interrupteur capacitif presque magique. -
Jean-Guy de Russé
English
:
Mirrors invite us to enter a new dimension. The magnifying function of a mirror allows us to enter into a universe where everything is bigger. I wanted this voyage to take us even further, so I drew inspiration from flying saucers in designing this mirror. I added a revolutionary battery operated mechanism, unique on the market. I structured the whole thing around a chrome base, to which I added a ring of light like the ones around Saturn. And lastly, I added an almost magical capacity switch. -
Jean-Guy de Russé