Organic Body Butter by Butter Babes
$47.99
B
utter Babes Organic Body Butter provides a moisture soak hydration to your skin.  It packed with powerful and multi-vitamin rich while the balm gives a boost of nutrients to damaged skin, helping to repair and sooth it with every application.  Body Butter was created with the belief that whatever you apply to your skin is equally important to what youput into your body.  The ingredients used are completely raw, organic, vegan, and have never been tested on animals.  Indulge yourself.
INGREDIENTS
Certified Organic Virgin Coconut Oil
 Only the highest quality Cold Pressed Virgin Coconut Oil is used. It nourishes the skin through the use of its fatty acids such as capric acid, caprylic acid, lauric acid and vitamin E. These fatty acids are deeply nourishing for the skin, keeping it young and supple. The benefits yielded by this ingredient seems endless!
Certified Organic Aloe Vera Butter
The aloe leaf contains more than 75 different nutrients working for the benefit of your skin and body. Applied to the skin, it is easily absorbed; often used to help heal the effects of eczema, psoriasis, stretch marks, minor burns and other skin rashes or irritations. Aloe Vera is also extremely beneficial for Anti-Aging.
Certified Organic Mango Butter
Mango Butter helps in the treatment of a variety of skin irritations, including skin rash, eczema, insect bites, and poison ivy. It's a "magic" ingredient helps protect and heal the skin from damage caused by sunburn and frostbite.
Certified Organic Avocado Butter
Avocados contains vitamin A, which is a form of Retinol. Retinol is a major factor in the appearance of the skin because it can help to boost new cell growth and collagen production. The greater the amount of collagen the skin produces, the fewer visible wrinkles and fine lines will appear, since collagen is one of the substances responsible for maintaining youthful and tight skin.
Certified Organic Jojoba Seed Oil
It's an amazing ingredient containing almost all of the vitamins and minerals essential for healthy skin and hair including Vitamin E, B-complex, copper, zinc, selenium, iodine, and chromium. And with all that it's gentle enough to be used on most sensitive skin without causing allergic reactions.
Certified Organic Cacao Butter
High in antioxidants, cocoa butter helps fight off free radicals. Free radicals are a principal cause of skin stress and signs of aging. Cocoa Butter is widely recognized as helping to reduce stretch marks. Cocoa butter melts just above room temperature and is a wonderful, natural moisturizer.
Certified Organic Sweet Almond Butter
Almond Butter is an powerful moisturizer for the skin. It's rich in vitamin E, needed for healthy skin. Almond butter has been demonstrated to reduce the incidence of eczema, psoriasis, acne, and other inflammatory skin conditions.
For more information see the
COMPLETE INGREDIENTS
link at left.
Features
Organic Body Butter - filled with natural ingredients.
Organic butters and oils deeply hydrate while antioxidants combine to regenerate and heal your skin.
Certified Organic Ingredients: Virgin Coconut Oil, Aloe Vera Butter, Avocado Butter,
Mango Butter, Jojoba Seed Oil, Cocoa Butter, and Sweet Almond Butter
Amazing healing for eczema, psoriasis, and other skin conditions.
Cruelty Free - 5 oz. size.
Cruelty Free - Read More
A statement from Butter Babes Organics
Why WE ARE Cruelty Free!
Certified Vegan & Cruelty Free by PETA
I
f your a pet owner you know how much these animals can improve your quality of life.  But it's not all about unconditional love; however that does actually provides a wellness boost!  Owning a pet can decrease depression, stress and anxiety.  Health-wise, it can lower your blood pressure, improve your immune system and even decrease your risk of heart attack and stroke!
Now imagine that loving animal being subjected to unspeakable horrors - all so we can feel pretty!  Animals used in laboratory testing are bunnies, mice, hamsters, and in the USA, France and China even dogs, yes dogs!  They have harsh chemicals rubbed roughly into their freshly shaved skin.  They aren't given pain control, and anyone who has heard a rabbit howl knows it is the most gut-wrenching, haunting sound you will ever hear.  Bones are sometimes broken when they are held down and forced to breathe poisonous fumes or have lethal chemicals poured into their eyes.  After all of this, we may still have serious reactions to our lipstick or mascara so why is this happening?  Why are people supporting this industry by buying their products?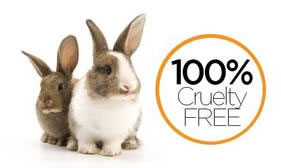 We must speak for those who cannot speak for themselves.  We must end their pain.  Butter Babes Organics believes we all have a choice.  Everything in life comes down to a choice between doing what is right and doing what is wrong.  Our choices will directly impact animals, for better or worse.
We use skincare products to look and feel attractive.  Animal rights aside, using vegan products are much healthier for your skin.  You need to remember that your skin is the largest organ.  And because vegan and cruelty free products are chemical free it is just an overall healthier option for your skin.
We at Butter Babes, pride ourselves for being 100% cruelty-free; we have never and will never test on animals.  From start to finish, all of our ingredients and final formulas are pure, raw, and made with love for you and the environment.  We choose to seek out healing ingredients to nourish both animal and human kind alike.
It is so important to bring awareness of the animal cruelty happening all around us.  There are several myths surrounding animal testing.  These myths are possibly circulated by companies that still use animals for testing.  Here is a big one: "It's the law." - The law does not require companies to test cosmetics on animals.  On March 11, 2013 the European Union passed laws banning the importing and sale of animal tested cosmetic products and ingredients.  We hope this is just the start and other parts of the world follow.
At Butter Babes we encourage you to be a conscientious shopper and know what you are buying.  Take a minute to read labels before making a purchase.  You can always check out companies online such as PETA.  We are proud to be part of their
Beauty without Bunnies Program
.  Check us out on PETA's website along with some other amazing brands that are certified vegan & cruelty free.
And remember Babes, you have a choice.  You have the power to create change in this world. With every dollar you spend your making a vote.  Use your money to vote for cruelty-free products & share this blog with your friends and family.  Change is Possible