Amba Radiant Plug-in Towel Warmer - Curved
$275
$217
>
T
reat yourself to the luxury of warm towels with the Radiant curved plug-in towel warmer. No wiring or electrician needed, just plug it in. This towel warmer has an attractive curved design and you can have your choice of brushed or polished finishes for the 18/8 stainless steel. The towel warmer heats up quickly and you can use the available plug-in 7-day timer to have your towels ready for you.
Features
Made of 18/8 Stainless Steel.
Polished or brushed stainless steel finish.
Matching cover plate included.
Ten crossbars allow optimal drying.
Temperature max: 149 ° F.
Heats up quickly.
Horizontal and vertical bars are all heated.
Built-in on/off switch.
115 Volts / 150 Watts / 1.3 Amps
24" Wide x 23-5/8" High x 5-3/4" Deep
Not compatible with Amba Digitial Heat Controller or wall-mounted built-in timer or switch.
Can be used with available plug-in 7-day timer.
2-Year manufacturer's warranty.
Manufacturer / Video

Amba's stated mission is to bring to the American market a collection of quality products that enhances life style and the spaces in which we live.
Amba's initial focus was upon bringing the comfort of affordable stainless steel electric towel warmers (rails/racks) to North America. They are proud to have achieved this goal.
For 18 years, Amba Towel Warmers have been made of long lasting 100% stainless steel that are offered in different finishes including polished and brushed stainless steel, white and oil rubbed bronze. The wide range of styles across the Amba Towel Warmer Collections, Jeeves, Elory and Amba's other collections are appearing in bathrooms, pool houses, yachts, spas, saunas, and mudrooms across North America.
This achievement led Amba to seek other quality products that enhance life style and the spaces in which we live. Now Amba includes a collection of Italian design Towel Warmers and Heat Radiators by Emmesteel. A compliment to our existing collection of products the Emmesteel Collection offers a range of stylish heating solution and a selection of towel warmers unrivaled in style.
Finishes
Amba Finishes

Every finish is not available in every model.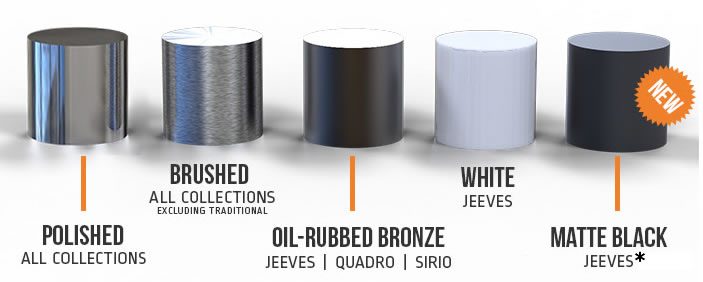 *Jeeves Matte Black stocked models: C, D, E, H, K Straight, L Straight.
*Jeeves Matte Black, special order models: F, I, J, M. Call us for information:
Radiant Technical Drawings
Radiant Towel Warmer Technical Drawings
Hardwired Radiant Curved - 5.75" Deep
Plu-In Radiant Curved - 5.75" Deep
Hardwired Radiant Straight - 4.75" Deep
Plug-In Radiant Straight - 4.75" Deep