Shunly CC+ Oil Controll Whilpped Cleanser Purifies Pores and Re-Balances 4 fl. oz.
$52
$42
I
t's a whipped souffle! Featuring camphor, clove oil and five herbal extracts, it includes Shunly Skin Care's Fusion Formula®. The formulation plays an essential role for oily and/or blemished skin by removing excess sebum. This cleanser is decongestive and has anti-irritation properties for deep pore cleansing and removal of dead skin surface cells, impurities and pore blockage. It promotes smooth and clear complexion and as part of 3 SkinCareActs™, preventing skin pores from clogging.
Principal Ingredients
:
Camphor (Cinnamomum camphora)
Vitamin B
Clove Oil (eugenia Caryophyllus)
Watercress
Lime Tree
Lavender Extract
How to Use
:
Twice daily, massage onto the skin with a small amount of water, building lather. Rinse thoroughly. Follow with Shunly pH-Balance Toner. Can be used as a luxurious facial shaving cream by men.
Ingredients:
Aloe Vera Gel, Stearic Acid, Hydrogenated Polyisobutene, Herb Extracts:(Ivy, Watercress, Lime Tree, Lavender, Soapwort), Cetyl Alcohol, Dimethicone Copolyol, Triethanolamine, Lauro Ampho Carboxy Glycinate, Sodium Trideceth Sulfate, Camphor, Clove Oil, Phenoxyethanol, Potassium Sorbate, Sodium Benzoate.
Features
Helps to cleanse and rejuvenate oily and blemished skin.
Promotes anti-bacterial activity and oil production balance.
Instantly dissolves makeup, dirt and excess oil. Reduces appearance of enlarged pores.
Ideal for normal - oily - problematic skin.
Cruelty free. No parabens, mineral oils detergents, synthetic color, or gluten formulas. Vegan friendly.
Shunly Skin Care Fusion Formula
Phloretin
Naturally occurring, this polyphenolic compound belongs to the flavonoid group. It's found only in apples and products derived from apples. The conclusions of research have been that Phloretin inhibits the proliferation of cancerous cells. It also serves as a protective mechanism to skin cells. It assists in reducing existing skin damage caused by free radicals and it prevents damage from worsening.
← Click each ingredient
for more information.
Peptides
Peptides are small fragments of protein molecules, in other words a few amino acids grouped together.
Peptides have extraordinary potential in anti-aging care for the skin. They help control melanogenesis - melanin-proucing cells; fight glycation, and even desensitize the skin. They've also been demonstrated to gently inhibit muscle contractions that form expression lines. Finally, peptides help in the production of new collagen, thereby helping further reduce the appearance of expression lines while helping to strengthen the skin's elasticity and suppleness. Result? A more youthful appearance of the skin.
Apricot Kernel Oil
Apricot Kernel Oil is an excellent emollient that prevents water evaporation from the skin while it provides lubrication to the skin surface. It's rich in gamma linoleic acid, derived from essential fatty acid Omega-6. Apricot Kernel Oil helps skin maintain moisture balance and delivers great firming and toning properties. It contains vitamin A and vitamin E, both of which sooth the skin and slow down the visible signs of aging. The nourishing properties of Apricot Kernel Seed Oil are well known for their anti-inflammatory properties affecting the skin positively, as well as soothing skin irritation conditions such as eczema.
Retinol (Vitamin A)
Vitamin A (Retinol) is probably the most well know and widely documented anti-aging active ingredients, containing great nutrients. It helps the skin in tissue rebuilding and is also an essential vitamin for healing wounds and other skin damage. Collagen production is simulated cell regeneration is regulated. An increased number of collagen fibers their rearrangement provides improvement in both the elasticity and the texture of the skin. This develops a firmer, smoother, and more radiant complexion as associated with youth and healthfulness. Retinol also provides anti-oxidants that inhibit the harmful effects of oxidation and free radical damage caused by oxidation.
Vitamin E
As a nutrient for skin cells, almost nothing beats Vitamin E. It has been well researched and proven to be an antioxidant serving to protect body tissue from damage caused by free radicals. Vitamin E also has the ability to help reduce erythema, edema, sunburn cell formation, and lipid peroxidation - all induced by the sun's UV radiation. Vitamin E reduces the visible signs of skin againg, bringing with it an excellent moisturizing effect, and a decrease in skin wrinkling. And last but not least, it's a powerful antioxidant helping to protect and repair the skin.
Seaweed Extract
Rich in vitamins and minerals, this marine botanical extract help soothe, soften, and reduce the sensitivity of the skin while protecting and maintaining the skin's natural balance. Seaweed extract relieves environmentally-caused skin irritation. and accelerates the skin's natural reparative processes while providing a degree of protection to the skin. Seaweed extract also augments hydration of the skin while it tightens the skin. There are also anti-aging and ant-inflammatory properties.
Bearberry Leaf Extract
Bearberry Leave Extract is commonly used as an stringent in numerous skin care products is a potent skin lightening agent. It acts as a lightening agent, fading freckles and skin discoloration that may have been caused by sun damage or hormonal conditions. It works by discouraging tryosinase enzyme activity thereby inhibiting the production of melanin pigments by skin cells. To top it all off, Bearberry Leaf Extract helps reduce sebum production in the skin.
Vitamin B3
Vitamin B3 reduces the visibility of melanin in the skin thereby helping to lighten the skin. As an active ingredient Vitamin B3 also inhibits the transference of pigmentation to the surface of the skin. That, in turn helps lighten dark spots while it increases the skin's hydrating ability induced by Vitamin C.
Zinc Oxide
Naturally pigmented, Zinc Oxide is a mineral possessing strong astringent abilities. It has been known for centuries to both heal and protect the skin. It's properties as a strong sun-block, however, only became known during the 20th century. Zinc Oxide has become popular and in demand as a component of sunscreen because of it's ability to almost completely block the entire spectrum of UVA and UVB rays. It accomplishes this by reflecting and scattering the harmful rays. It's completely non-irritating as well.
Jojoba Oil
Jojoba oil is a botanical extract excellent as a treatment for skin wounds, mild infections, and acne. It is an oil substance that softens, smooths and moisurizes skin. It's hypo-allergenic and can be use with all types of skin. Jojoba oil controls excess oil production which is beneficial for oily or combination skin, and for acne. Although beneficial for oily skin it's not drying and actually adds moisture in the case of dry skin. Jojoba oil is rich in Vitamin E - a natural antioxidant that prevents wrinkles on the skin.
Chamomile Extract Oil
Best know as an anti-inflammatory, Chamomile Extract Oil is particularly advantageous for use on sensitive skin due to its composition containing essenail oil compounds and active flavonoids. There are also phenolic derivatives that present both antiseptic and healing qualities which combined, help in relieving skin congestion. Because of it's antiseptic and healing properties, Chamomile Oil is used extensively for treatment of skin problems such as rashes, acne, eczema, psoriasis, hypersensitive skin, and allergic conditions.
Vitamin B5
Vitamin B5 is frequently used for its deep-moisturization qualities that result in fine-line reduction. Vitamin B5, also called Pantothenic Acid, is derived from plants and D-Panthenol is derived from it. B5 is a critical ingredient essential nutrient in wound treatment and treatment of acne-prone skin. D-Panthenol is often called an anti-stress vitamin, permitting the body to react effectively to a variety of stress conditions. It has exfoliating properties that work against free radicals and promote the regeneration of new skin cells, resulting in a younger, fresher appearance.
CoQ10
It's present in many cells of the body and also goes by the name Ubiquinone, it's a molecular compound - an enzyme - that has super antioxidant properties. CoQ10 is used for collagen production and protection from sun damage. CoQ10 participates in the electron transport chain, components of cellular breathing and of energy generation. It is a powerful antioxidant, helping to impart energy while it protects cellular lipids and proteins from oxygenation. It accomplishes this by absorbing the oxidization perpetrated by free radicals. CoQ10 therefore operates as an excellent anti-photo-aging agent.
Vitamin C
Citrus fruits naturally contain an active form of Vitamin C. It's water-soluble and a potent antioxidant that has the capacity to protect the skin from oxidative damage caused by free radicals. (Free radicals are unstable molecules that can damage collagen, causing dry skin, fine lines, and wrinkles.) Vitamn C improves elasticity of the skin by augmenting collagen production - a protein that assists the grown of cells and blood vessels. It give skin its firmness and strength, while diminishing hyperpigmentation, erythema, and redness. Vitamin C also helps in the effectiveness of Vitamin E.
Resveritol
Resveratol is a member of the polyphenol group, the leader in antioxidant efficacy. It's a plant-derived substance that is found in red wine and cocoa that's widely know and used for its anti-aging properties. It has anti-inflammatory properties that help to product premature aging in the skin that can be caused by inflammation. Resveratol is a strong antioxidant and a deterrent to free-radicals. Besides anti-aging, Resveratol has been found to reverse the effects of UV damage caused by tthe sun, and to protect against additional UV damage - one of the primary causes behind the aging process. Finally, Resveratol helps to maintain collagen and moisture levels in the skin.
Camphor
It's a culinary spice, a component in incense, and a medicine and has been used for centuries. As an ingredient Camphor is an excellent anti-inflammatory agent and a natural antiseptic. For acne, camphor has excellent benefits as a result of the combination of blood stimulation and circulation, and anti-inflammatory properties. It helps soothe the skin with conditions such as eczema or acne. It also has ability to reduce redness and irritation and its combination of properties leads to its frequent use in skin care products.
Ferulic Acid
Found in cell walls of plants, Ferulic Acid is a power-packed antioxidant derived from the cell walls of plants. It's exceptionally effective in preventing sun damage. Ironically, research studies have shown that exposure to UV rays actually increases the antioxidant capacity and efficacy of Ferulic Acid. Blended with other antioxidants it works synergistically, rendering Vitamins C and E to become more effective than when used alone. The natural protective properties of Ferulic Acid prevent premature signs of photo-aging thereby greatly assisting in the prevention of the formation of skin cancer.
AHA
One of the most valuable skin care tools to help fight wrinkles, AHAs are naturally occurring carboxylic acids found in many foods, including glycolic acid in sugar cane, lactic acid in milk, citric acid in citrus fruits, tartaric acid in wine grapes, and malic acid in apples among others. The most commonly used alpha-hydroxy acids are glycolic and lactic acid. Alpha hydroxy acids are great exfoliators and increase blood flow to the skin. These actions promote exfoliation of the outermost layer of the skin accounting for smoother texture, reduced wrinkles and signs of aging, improving the overall look and feel of your skin.
Hyaluronic Acid Compound
Hyaluronic acid can hold from 100 to 500 times its weight in water. It works on and in the skin to minimize the appearance of wrinkles. It's one of the most potent skin care active ingredients in use today, keeping the skin looking plumped. Hyaluronic Acid is a naturally occurring polysaccharide that's reponsible for tissue hydration. It's super water-binding attributes fill void spaces between collagen and elastinfibers in the dermal skin layer.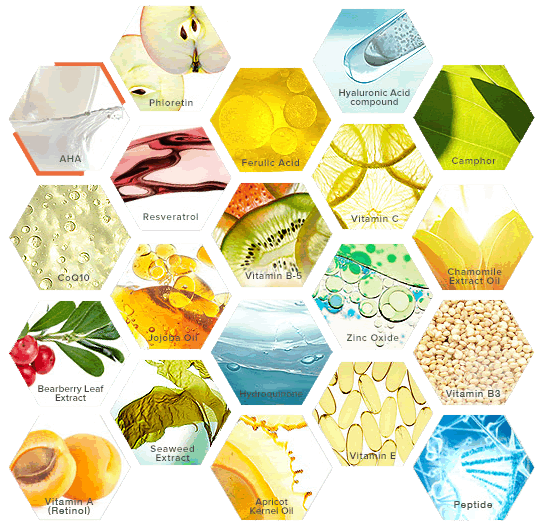 Shunly 3 SkinCareActs™
3 SkinCareActs™ represents the Shunly method of skin care;
A daily skin care regimen, customized for your specific skin type and skin condition.
It characterizes the method by which Shunly Skin Care innovations work on your skin.
PREVENTION
Stay youthful and healthy looking.

Avoiding premature aging of the skin is best accomplished by taking action to prevent environmental damage that attacks the skin as the years go by. UV rays from the sun, and pollution of all sorts continue to affect the skin. Shunly Skin Care products formulations are based on the most powerful antioxidants currently know to science to prevent damage by external aggressors, combating premature aging.


Take action to prevent
premature aging.

PROTECTION
An "unbrella" protecting from environmental factors.

Prolonged exposure to the sun's UV rays is the primary reason skin discolors and ages prematurely - and that may ultimately lead to skin cancer. Advancd Shunly Skin Care treatments with excellent levels of SPF protection including powerful antioxidants are specially formulated to afford super-efficient protection from environmental aging. Used daily, Shunly Skin Care's proprietary moisturizers provide superior protection, preventing wrinkles and dark spots from developing - which often occur as a result of photoaging. Shunly's FUSION FORMULA® features Zinc Oxide that will protect your skin and dramatically slow the process of photoaging of your skin.


Take action to protect
against environmental factors.

CORRECTION


Specific skin concerns
need specialized treatment.

Correction products by Shunly Skin Care are based on variations of Shunly's FUSION FORMULA® that contains the most powerful anti-aging, exfoliating, anti-wrinkle and lightening ingredients that work together to help restore and rejuvenate your skin, resulting in a more youthful, healthier appearance.  If you have concers regarding changes that have become visible in your skin, including fine lines, wrinkles, discoloration, loss of collagen and moisture, age spots, blemishes, and sagging skin - amongst others, you'll be happy with the results of the use of Shunly Skin Care concentrated treatments. They'll make a difference.

Take action
against damage.