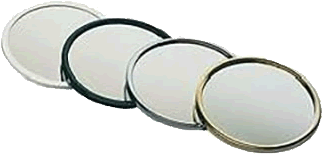 Don't worry, it won't bring you seven years bad luck!
Our customers sometimes phone in to ask if we can supply the glass (mirror) section of their broken vanity mirror or makeup mirror.
There is a limited selection of replacement glass mirrors available for Kimball & Young mirrors. And we can facilitate an order for you for most mirrors made by Miroir Brot of France. Otherwise, we're sorry to say a replacement probably can't be found.
For Kimball & Youg replacements follow THIS LINK
Remember that if you don't have an exact matching model number
the mirror replacement won't fit and they're non-returnable.
For Miroir Brot replacement lenses, we will obtain a quote for your approval
from the factory in Paris, France. The quote will include free shipping air service via
FedEx or UPS. To arrange this, please CONTACT US or call us at 1-866-799-9888.
We're here 8 to 5, Mountain time, business days.