Aamsco Halo LED Backlit Mirror with Backlit Central Mirror Ringed in Black/Silver Glass and Aluminum
$1,370.95
$1,187
B
acklit in the center section, the Halo mirror from Aamsco has an outer frame of glass set in aluminum. Within the aluminum frame lies glass with decorative black and silver rings, framing the innermost section which is the backlit mirror. It's a dramatic knock-out! The LEDs are rated at 30,000 hours, and have a color temperature of 2,600k - 2,800k, Warm White, with a Color Rendering Index (CRI) of 90+. The mirror conforms to ADA guidelines and is suitable for damp locations such as the bathroom, with an IP55 Rating (see IP55 Explained). It is also ETL listed. The light output is at 1395 Lumens with a tiny electrical consumption of only 22 Watts. This is a hardwired mirror and requires an on-off switch. It is non-dimmable.
Features
Amsco's HALO backlit mirror by Aamsco is a multi-layer arrangment. Working out from the center: Backlit LED main mirror section, surrounded by glass ringed in Black & Silver, and finally framed in Aluminum.
The mirror is suitable for damp locations such as a bathroom with an IP55 Rating (see explanation). It is also perfectly suitable for a dramatic accent in any room of the home, or in an office.
Dimensions are 23.60" x 31.49" x 1.1" Deep, and held to a tolerence overall of 0.125". Surface mounted, and hardwired, the mirror can be mounted horizontally or vertically.
The mirror consumes only 22 Watts and delivers 1,395. The LED color temperature is 2,600-2,800 degrees Kelvin, or Warm White with a CRI > 90. Non-dimmable.
Conforms to ADA guidelines and is ETL listed. 3-Year manufacturer's warranty.
Aamsco
About Aamsco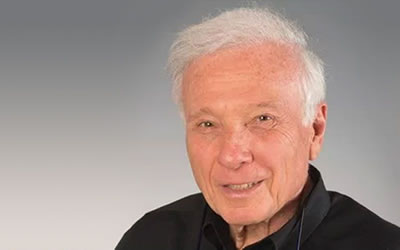 Aamsco, since 1975, has been manufacturing innovative lighting solutions for companies, wordwide. In the suburbs of New York City, their original vintage lighting company was formed by Bob Rosenzweig to manufacture antique light bulbs. With Bob's creativity, Aamsco began expanding and moved to New Jersy, and ultimately in 2001 relocated to Summerville, South Carolina where Aamsco continues to grow to this day.
IP55 Explained
IP Ratings - Ingress Protection and What it Means
IP Ratings are a classification of the degree of protection against the intrusion of objects including things like hands and fingers, dust, accidental contact, and water. The concept is to provide a more standardized and meaningful set of more specific descriptive terms other than vague marketing lingo, such as "waterproof".
The two digits after the letters "IP" in the rating have separate meanings. The first digit denotes protection against solids. The second digit deals with protection from liquids.
IP55's First digit - 5 - Protection Against Solids
Protection against any large surface of the body, such as the hand, fingers, small objects, tools, most wires, screws, etc, and most dust.
IP55's Second digit - 5 - Protection Against Liquids
Equipment is protected against the ingress of water including dripping water, water from a spray at any angle up to 60 degrees from the vertical, water splashing from any direction, and water from a nozzle (6.3mm) from any direction.
For further information and full ratings charts visit
https://en.wikipedia.org/wiki/IP_Code
.
3,500k vs. 5,500k
Color Temperature Comparison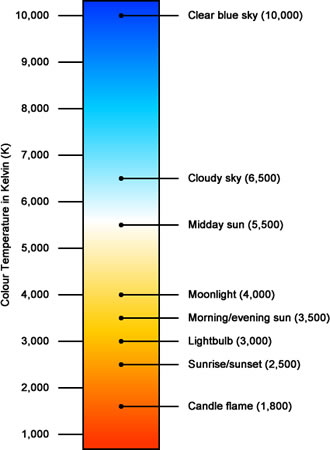 Color Temperature is not Brightness Color temperature describes the color of the light.

The color temperature of any light bulb, including LEDs is measured in degrees Kelvin ("k").  The higher the color temperature, the closer the light is to pure white light at 10,000° K.  A blue sky sunny day at noon has a color temperature of about 5,500° K.  On a very bright cloud-covered day, the sky registers a color temperature of about 6,500° K., while a "regular" incandescent light bulb has a color temperature of about 2,700° K.

The color temperature of the lighting in your mirror may affect the way people see you in different situations.  It's best, therefore, to choose a lighted makeup mirror with a color temperature to approximate your most frequent environment.

Many of our LED mirrors have their color temperature specified. And some makeup mirrors have adjustable or switchable color temperatures.  For those where color temperature is not specified a reasonable guide is this: For incandescent bulbs, a color temperature of around 3,000° K. is normal.  Fluorescents and LEDs with no color temperature specification have color temperatures around 4,600° K. The chart below can serve as a guide.
If you're planning for an outdoor day, the higher the color temperature the better. For evenings on the town, 2,700&deb; K. to 3,500° K. is best. For office environment lighting conditions, color temperatures around 4,500° K. provide the closest match.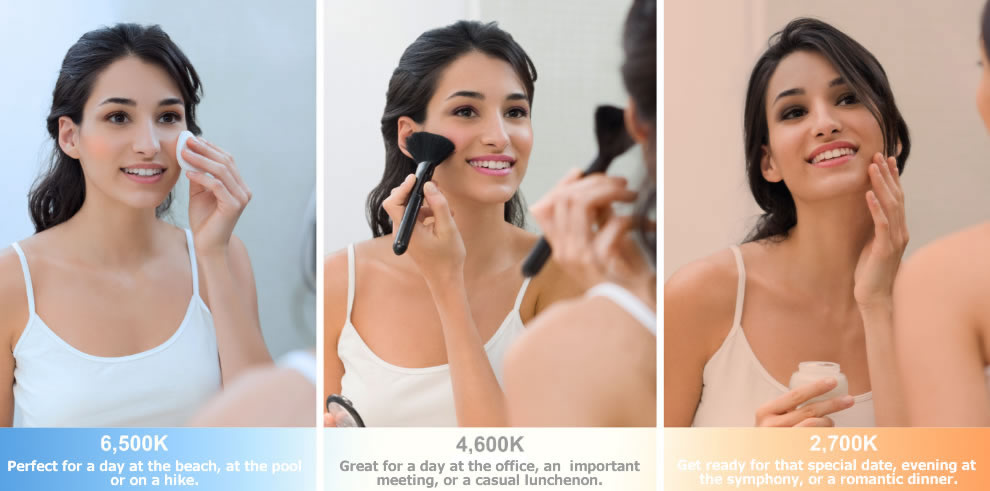 About CRI
Color Rendering Index (CRI)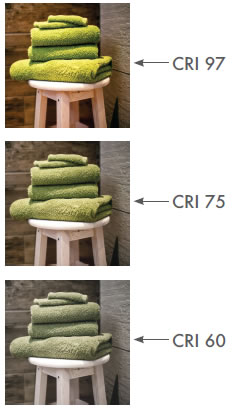 The color rendering index (CRI) is a measure of the ability of a light source to display the colors of various objects faithfully when compared the a natural light source. Light sources with a high CRI value are desirable in color-critical applications such as neonatal care and art restoration. Generally the higher the CRI, the more pleasing to the eye.

The highest possible CRI value is 100 and is frequently achieved by incandescent or "regular" light bulbs. Fluorescent "cool white" bulbs have a CRI of around 50 to 60, but some high-end multi-phosphor fluorescents can go up to 98. LEDs typically have an a CRI around 80, and better, more expensive LEDs can have CRIs up to 97 or 98.