Electric Mirror Integrity TV Lighted Mirror with 21.5" TV that "Disappears" When Turned Off, 6 sizes
$5,870
$4,930.80
N
ot only convenience, but the Integrity™ TV Mirror will add a definite statement of prestige to your bathroom. The TV is completely contained within the 1.75" to 2" thickness of the mirror. And this TV is no second-string has-been. It's a 21.5" up-to-date LED HDTV (729p/1080i ) with a waterproof Remote Control. The TV image is seen though the mirror via Electric Mirror Spectrum™ Technology. See the TV Specifications in the Features tab below left.
The LED lighting is a natural 3,000k, providing plenty of light and the long-lasting LEDs are estimated to have a 52,000 hour lifespan - which is almost 6 years of 24/7 daily operation - in other words 48 years of 3-hour daily operation! And in the unlikely event an LED should ever fail, it's replaceable. The LEDs emit 100 Lumens per watt and 869 Lumens per foot (see below), and they're dimmable with a forward-phase dimmer. The Color Rendering Index (CRI) is 90+ giving you true-to-life natural looking views. Complete easy installation instructions are included. The mirror is UL listed in the USA and Canada and comes with a 7-year manufacturer's limited warranty.
All sizes 1.75" Deep.
36" x 42" high - 10,000 Lumens, 100 Watts TV Off - 135 Watts TV On
42" x 42" high - 10,900 Lumens, 109 Watts TV Off - 143 Watts TV On
48" x 42" high - 12,000 Lumens, 120 Watts TV Off - 155 Watts TV On
54" x 42" high - 13,100 Lumens, 131 Watts TV Off - 165 Watts TV On
60" x 42" high - 14,100 Lumens, 141 Watts TV Off - 176 Watts TV On
66" x 42" high - 15,200 Lumens, 152 Watts TV Off - 187 Watts TV On
Custom Options - call us for pricing and information

866-799-9888
.
B-Series™ Mirror Glass.
Bose™ Ceiling-mount speakers - flush white.
Clone Box
Custom Sizes - 8-10 week delivery.
The Integrity TV Mirror is also available with a
15.6" TV.
Features
Copper-free, corrosion-resistant Dura-Mirror glass with elegant LED lighting and Spectrum™ and DuraMirror™ Mirror Glass.
LED Lighting has a 52,000 hour life expectancy - almost 6 years of 24/7 operation or 48 years of 3 hour daily operation.
LEDs are at 3,000 degrees Kelvin, almost identical to regular incandescent lighting, and with a Color Rendering Index (CRI) of 90+
LEDs are dimmable and replaceable. 120/240 VAC. Suggested Dimmer: Leviton IPL06-10Z (not included).
21.5" Electric Mirror LED HDTV. 720p / 1080i 16:9 widescreen ratio. 50,000 hour panel
Left/right out and Line-Level audio out. HDMI, RF, and component connections.
ATSC/NTSC/QAM TV Tuner. Waterproof remote control. Safety-backed mirror.
10 watts per channel amp. with integrated state-of-the-art mini speakers for high-quality stereo sound.
Easy-fit TV mounting solution. Removable power supply. Complete Installation instructions included.
Shipped FREE in about 1 week. 7-year Manufacturer's Limited Warranty. UL listed in the USA and Canada.
OmegaMirror
DuraMirror™
OmegaMirror Specifications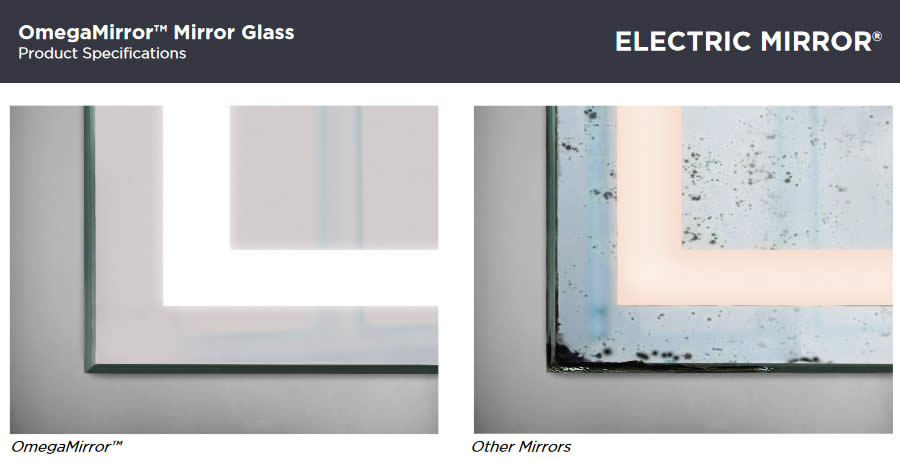 Product Description
OmegaMirrorâ"¢ is the longest lasting, most eco-friendly mirror glass available, providing outstanding performance and the lowest total cost of ownership.
Specification Statement
Mirror glass shall have a lead-free, copper-free composition, and be engineered to withstand the corrosive elements associated with humid environments. Mirror must be CASS Tested1 by a Nationally Recognized Testing Laboratory (NRTL) and certified to offer at least 480 hours of essentially faultless performance, free from black-spot, edge rot, ghosting and other signs of degradation. Mirror must be backed by a ten-year warranty as evidence of superior performance.
Features and Benefits
Six times longer life than other mirrors
CASS Tested to 480+ hours of faultless performance
Resists black spot, edge rot, and mold corrosion
Minimizes or eliminates replacement mirror expense2
Lead-free and copper-free
Emits virtually no volatile organic compounds
Environmentally sustainable
10-year limited warranty3
Durability Texting
Independent NRTL CASS Testing
Ongoing internal CASS Testing at Electric Mirror
Acid Resistance Test
Alkaline Resistance Test
UL Adhesives Test
Mechanical Shear Test
3
Some restrictions apply.
Spectrum
Spectrum - by Electric Mirror
Best in bathrooms that are not all-white or overly bright. Spectrum™ is an excellent choice for application of makeup and daily preparation.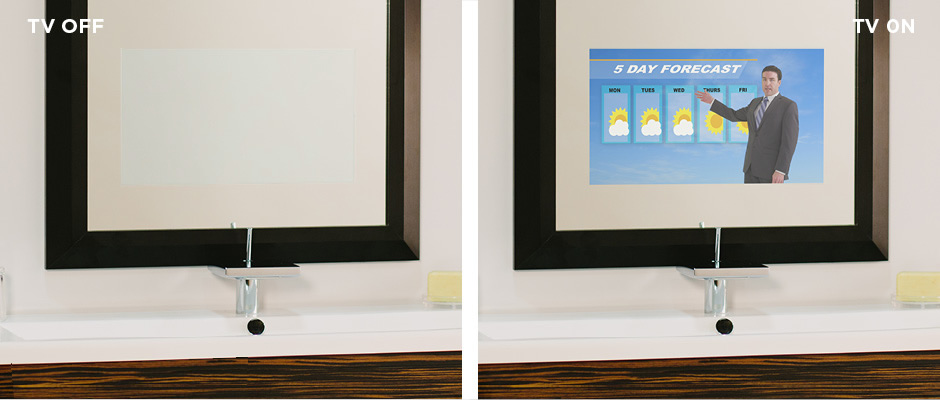 Spectrum mirrors provide a good TV image when on, and the mirror itself has a highly reflective surface. When the TV is turned off, the area where the TV appeared is well camouflaged, leaving only a light gray image where the TV used to appear.
If you have an all-white or very brightly lit bathroom, you probably need the "B-Series", a custom option. Contact us for more information and pricing.
866-799-9888
B-Series Option
B-Series - a Custom Option by Electric Mirror
Made for bathrooms that are either all-white or brightly colored, the B-Series option delivers a crisp, clear viewing experience with reduced glare.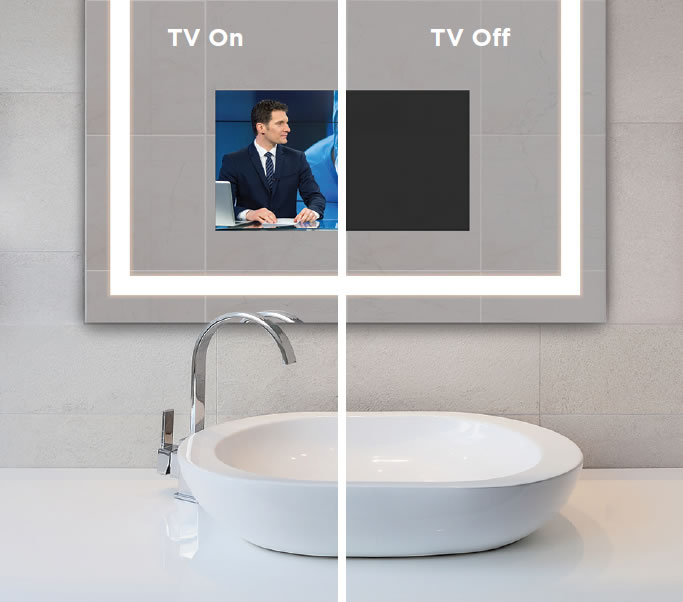 B-Series mirrors have a highly reflective mirror surface, and when turned on, the TV image is impressively bright. Turned off, the area where the TV appeared is black.
This is a custom option - contact us for pricing and more information.
866-799-9888
Installation Summary
Installation Summary - Electric Mirror Integrity TV Mirror
120V - 240V hardwire electrical connection. Provide a 36" whip - junction box not required.
Chassis should be mounted to wall studs - mounting holes are provided.
Control by an on/off wall switch or forward-phase dimming switch.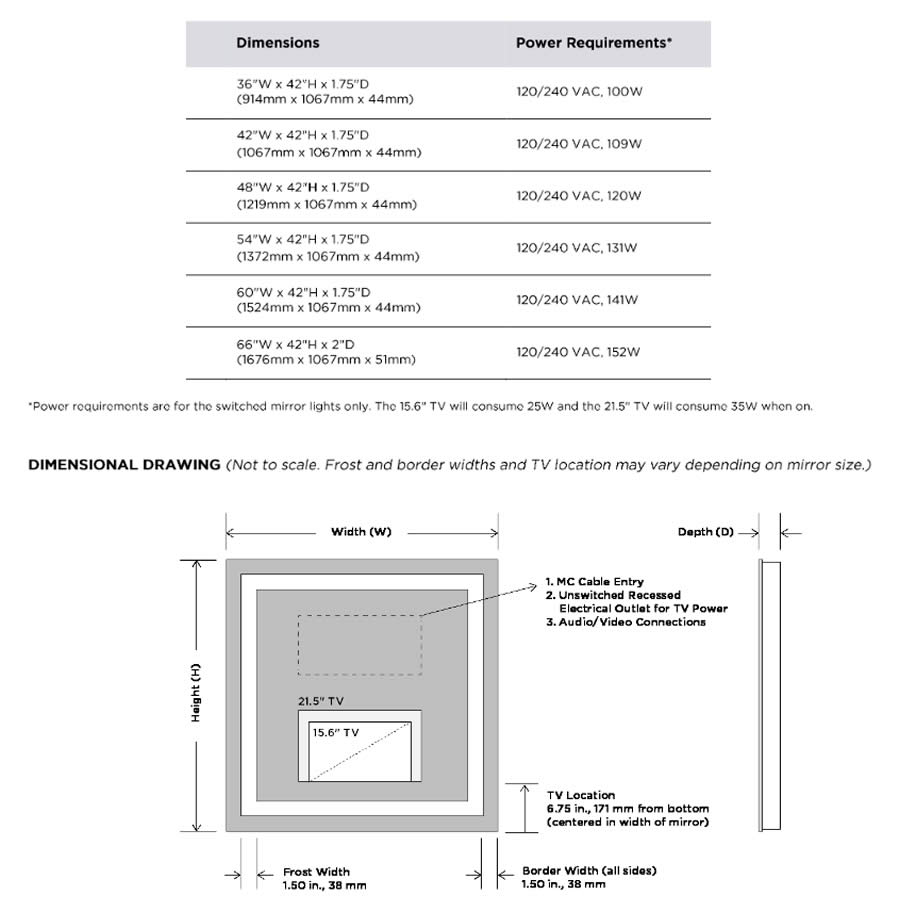 About Electric Mirror
Electric Mirror is leader, globally, in Lighted Mirrors and Mirror TV Technologyâ"¢. They have been serving hospitality and residential customers for over sixteen years with product lines that include Lighted Mirrors,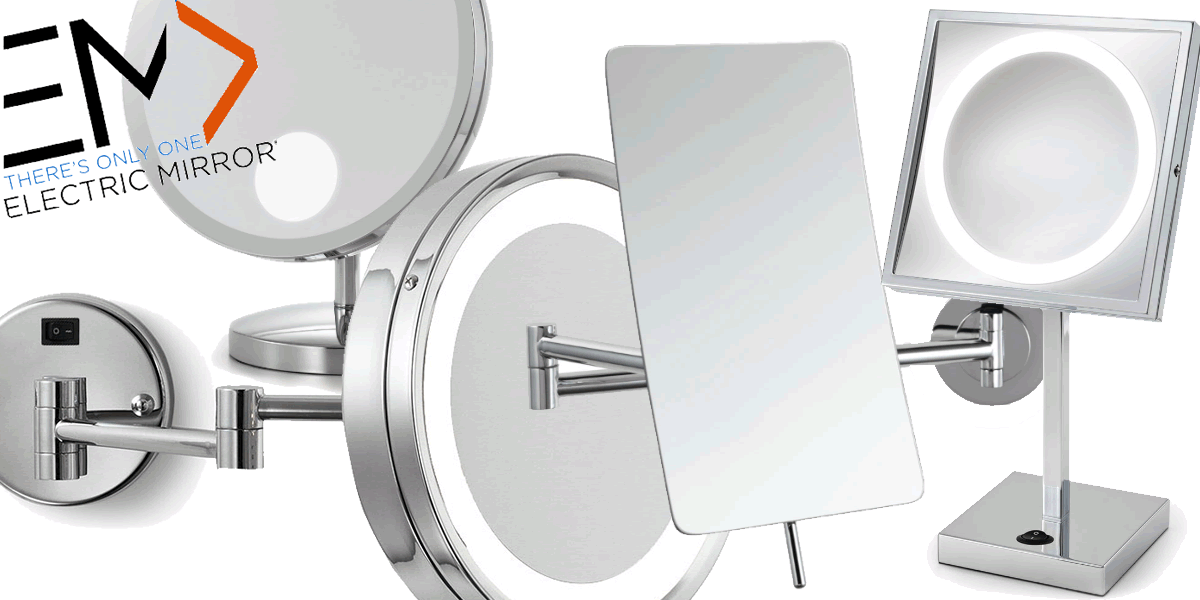 Mirror TVs, Waterproof TVs, Mirrored Cabinets, Corridor Lighting, Wardrobe Mirrors, and
Makeup Mirrors
.  Electric Mirror's mirrors are sold in every continent and in scores of countries around the world.
Selecting Electric Mirror, you can take an important step in reducing your carbon footprint and at the same time, beautifying the world in which we live.  The Electric Mirror commitment to the environment has given rise to their Beautiful World™ Initiative comprising environmentally-friendly technologies that result in products that cut energy costs and maintenance requirements.
Electric Mirror's makeup mirrors easily communicate their flawless luxury to discerning homeowners and hotel guests around the world.
Headquartered in Everett, WA, Electric Mirror employs over 350 individuals.