Electric Mirror Silhouette LED Back-Lighted Mirror Appears Free Floating - 8 Sizes
$2,110
$1,772.40
F
ree floating reflection of surround back-lighting creates the perfect illusion of a free-floating mirror. The soft wall glow illuminates your bathroom in gentle lighting. The LED lighting is a natural 3,000k, providing plenty of light and the long-lasting LEDs are estimated to have a 52,000 hour lifespan - which is almost 48 years of 3-hour daily operation! And in the unlikely event an LED should ever fail, it's replaceable. The LEDs emit 100 Lumens per watt and 695 Lumens per foot (see below), and they're dimmable with a forward-phase dimmer. The Color Rendering Index (CRI) is 90+ giving you true-to-life natural looking views. Complete easy installation instructions are included. The mirror glass is DuraMirror™ that stands up more than 14x better to corrosion. The mirror is also UL listed in the USA and Canada and comes with a 7-year manufacturer's limited warranty.
All sizes 1.75" deep except 66" wide, which is 2" deep.
24"W x 36"H -  6,700 Lumens  67 Watts
30"W x 30"H -  6,700 Lumens,  67 Watts
30"W x 42"H -  8,500 Lumens,  85 Watts
36"W x 36"H -  7,600 Lumens, 76 Watts
42"W x 42"H - 10,000 Lumens, 100 Watts
48"W x 36"H - 10,000 Lumens, 100 Watts
54"W x 42"H - 12,000 Lumens, 120 Watts
60"W x 36"H - 12,000 Lumens, 120 Watts
66"W x 42"H - 14,000 Lumens, 140 Watts
Features
Electric Mirror Silhouette bathroom mirror gives the illusion of being free-floating by its gentle rear wall glow and the front-facing task lighting helps with makeup application and shaving.
Lead-free, copper-free, corrosion-resistant OmegaMirror™ glass is used for exceptional longevity.
Bright LED-lighted halo wall lighting with 52,000 hour life (almost 6 years of 24/7 operation), dimmable and replaceable. Runs at 120/240 VAC.
LEDs are at 3,000 degrees Kelvin, almost identical to regular incandescent lighting, and with a Color Rendering Index (CRI) of 90+
Suggested Dimmer: Leviton IPL06-10Z (not included). Easy Installation - instructions included.
Shipped FREE. 7-year Manufacturer's Limited Warranty. UL listed in the USA and Canada.
OmegaMirror
DuraMirror™
OmegaMirror Specifications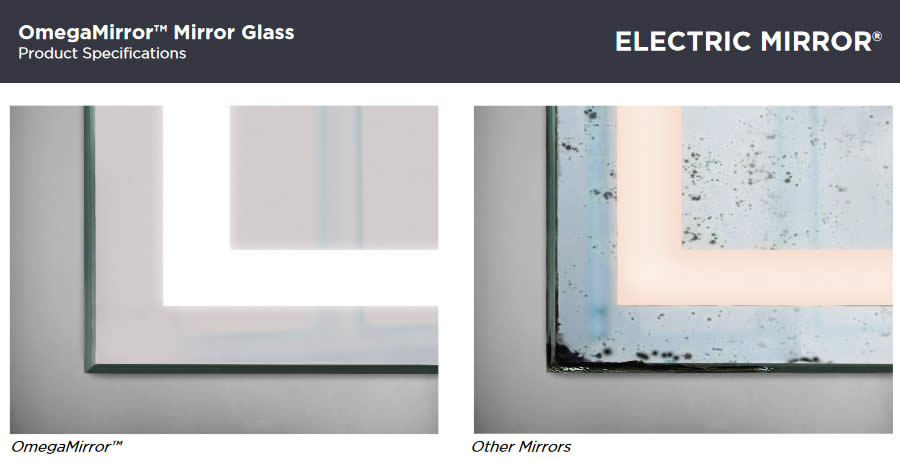 Product Description
OmegaMirrorâ"¢ is the longest lasting, most eco-friendly mirror glass available, providing outstanding performance and the lowest total cost of ownership.
Specification Statement
Mirror glass shall have a lead-free, copper-free composition, and be engineered to withstand the corrosive elements associated with humid environments. Mirror must be CASS Tested1 by a Nationally Recognized Testing Laboratory (NRTL) and certified to offer at least 480 hours of essentially faultless performance, free from black-spot, edge rot, ghosting and other signs of degradation. Mirror must be backed by a ten-year warranty as evidence of superior performance.
Features and Benefits
Six times longer life than other mirrors
CASS Tested to 480+ hours of faultless performance
Resists black spot, edge rot, and mold corrosion
Minimizes or eliminates replacement mirror expense2
Lead-free and copper-free
Emits virtually no volatile organic compounds
Environmentally sustainable
10-year limited warranty3
Durability Texting
Independent NRTL CASS Testing
Ongoing internal CASS Testing at Electric Mirror
Acid Resistance Test
Alkaline Resistance Test
UL Adhesives Test
Mechanical Shear Test
3
Some restrictions apply.
About Electric Mirror
Electric Mirror is leader, globally, in Lighted Mirrors and Mirror TV Technologyâ"¢. They have been serving hospitality and residential customers for over sixteen years with product lines that include Lighted Mirrors,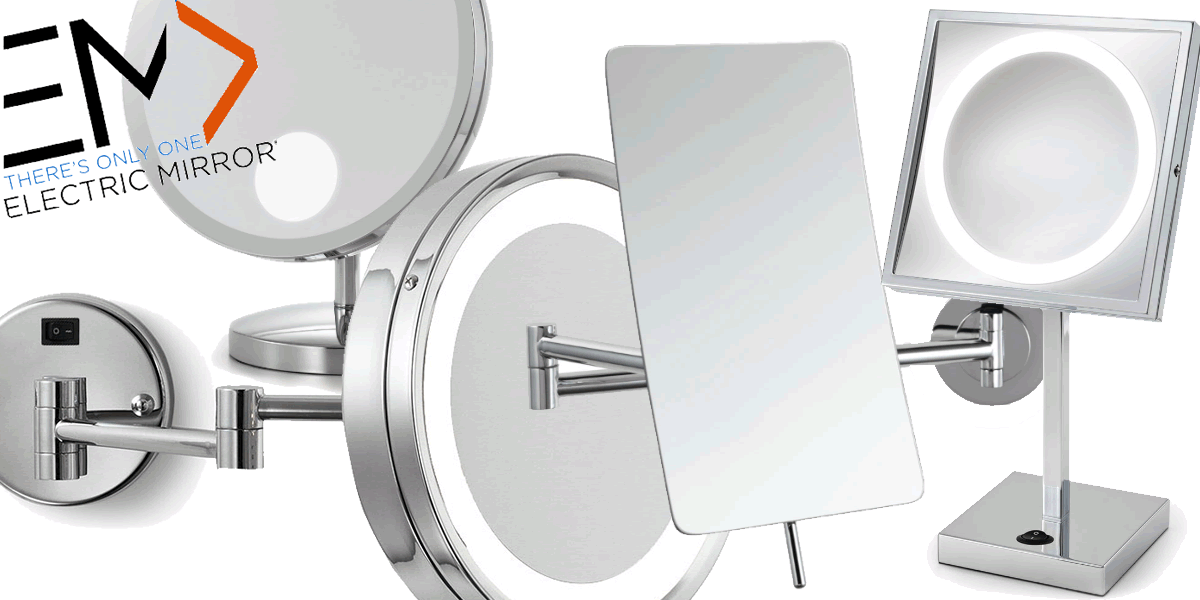 Mirror TVs, Waterproof TVs, Mirrored Cabinets, Corridor Lighting, Wardrobe Mirrors, and
Makeup Mirrors
.  Electric Mirror's mirrors are sold in every continent and in scores of countries around the world.
Selecting Electric Mirror, you can take an important step in reducing your carbon footprint and at the same time, beautifying the world in which we live.  The Electric Mirror commitment to the environment has given rise to their Beautiful World™ Initiative comprising environmentally-friendly technologies that result in products that cut energy costs and maintenance requirements.
Electric Mirror's makeup mirrors easily communicate their flawless luxury to discerning homeowners and hotel guests around the world.
Headquartered in Everett, WA, Electric Mirror employs over 350 individuals.
Installation Summary
Installation Summary - Electric Mirror Silhouette
120V - 240V hardwire electrical connection. Provide a 36" whip - junction box not required.
Chassis should be mounted to wall studs - mounting holes are provided.
Without AVA: Control by an on/off wall switch or forward-phase dimming switch.
With AVA: Control by an of/off wall swicth - OR - by using the AVA touch control located on the mirror, 6" up from the lower border.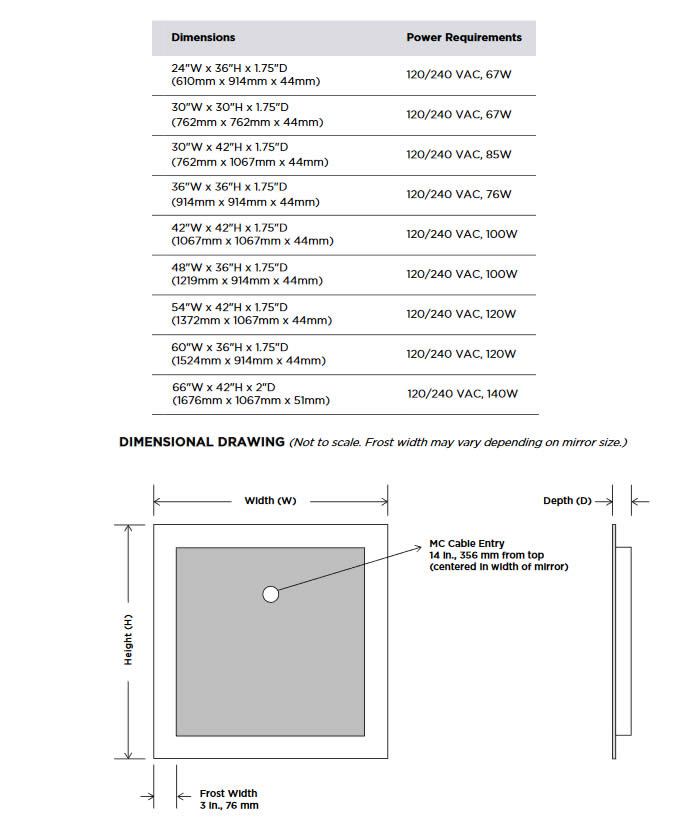 Keenâ"¢ Technology
Keen™ Technology - Ideally Suited to California's Adaptive Lighting Energy Standards
Electric Mirror's Keen™ product means lighting that dims automatically when it's not needed and when in use four levels of dimming are possible with a simple touch.. The energy savings savings from adaptive lighting is so significant that California now requires it in new construction.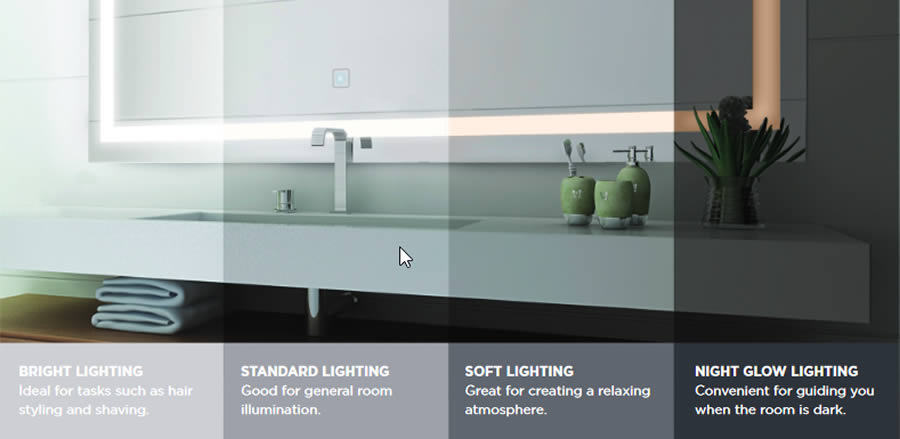 Keen™ one-touch dimming
offers the latest and smartest eco-friendly dimming experience. One touch gives you instant access to one of four pre-set lighting levels.
100% - Bright lighting for help with tasks.
66% - Standard illumination for your room.
25% - Soft, atmospheric, relaxing lighting.
1.5% - Night lighting for safe guidance in the darkness.
Automatic diimming
occurs at one hour of non-use, protecting the environment even when you forget to turn the lights down. The average reduction in energy consumption is 60% - an automatic big impact.
The Richest Dimming Experience:
Keen's thoughtful design provides a complete range of light levels to satisfy your every lighting need. Plus, the innovative engineering makes interacting with Keen a luxurious experience:
• The intuitive interface is seamlessly integrated into the mirror, offering a sleek and beautiful design.

• Lighting initiates at full brightness and dims down and back up by touching and holding the Keen icon.

• Night Glow mode provides just enough lighting to safely guide you when the room is dark, and the Eye-Sensitivity Adjustment technology automatically reduces the light level as your eyes adjust to low light.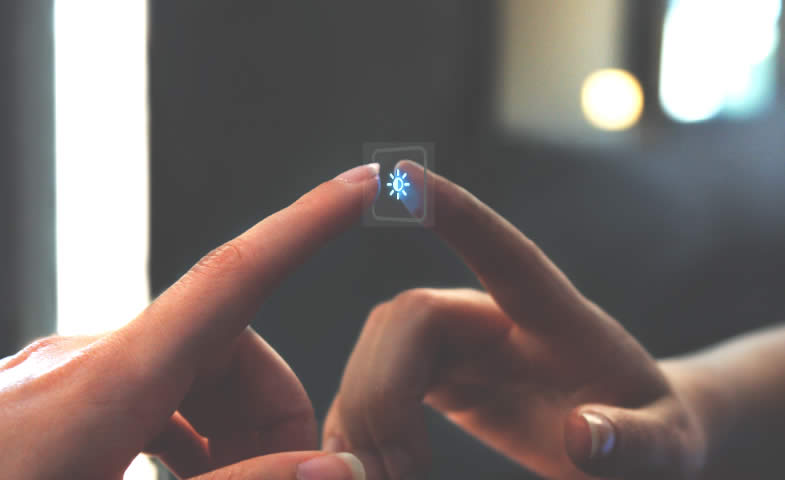 The intelligent sensor in Keen™ supports the environment, dimming your lighted mirror after an hour of non-use while also reducing your energy consumption by an aver of 60% - a big and automatic impact.