Electric Mirror Aqua Fog-Free Shower Mirror will Give You a New Shaving and Shower Experience
$640
$537.60
T
he Electric Mirror Aqua™ fog-free shower mirror mounts flush to the tile and becomes part of the wall in your shower. The built-in electric defogger keeps the mirror fog-free and will make shaving easier than ever before and totally revolutionize your showering experience or that of your guests. The mirror is available in 2 sizes - square or rectangular. The installation is wired to regular house current, and the built-in defogger runs on low voltage and is UL and cUL listed. You can control the mirror from a regular wall switch or a timer. Made in the USA.
11.75" x 11.75" high x .44" Deep
11.75" x 23.75" high x .44" Deep
Features
Electric Mirror defogger shower mirror using Copper-free, corrosion-resistant Dura-Mirror glass.
The mirror attached to regular house current - 120 VAC. The supplied transformer and 25' of cable operates the defogger at low voltage.
The built-in defogger can be controlled from a regular wall switch or timer.
Shipped FREE in about 1 week. Safety-backed mirror. 7-year Manufacturer's Limited Warranty. Made in America - UL listed in the USA and Canada.
FAQ
Fog-Free Mirror Frequently Asked Questions
Will the entire mirror surface be fog-free?
The major portion of the mirror will remain fog-free, but you can expect to see some fog around the perimeter of the mirror.

When should I turn the fog-free mirror on?
A five minute warm-up period is recommended. The mirrors operates on low-voltage for safety in the shower. Being low voltage they need some time to warm up before turning the shower on.

Is this mirror suitable for a steam shower?
The intense steam may overwhelm the capacity of the mirror to remain fog-free. The mirror is better suited to use in a typical shower.

What is the wiring like and what about the transformer?
The mirror is delivered ready to wire to 120V and a low voltage transformer is included with 25' of low-voltage cable. The transformer should be installed in an accessible, dry location such as a closet. It cam be controlled from the bathroom by a regular light switch or a timer.

Can the mirror be surface-mounted to drywall?
•  The Acclaim must be recessed into the wall.
•  The Aqua II should adhere to the wall and be flush with the tile or marble surface.

The mirror edges need protection from damage over time. For that reason it is important to seal around the edges by applying a silicone sealant to the joint between the mirror and the tile. Do not install on top of a tile or marble surface, leaving the edges of the mirror exposed.

What is the recommended adhesive for the Aqua II?
Adhere the mirror defogger to the wall using a mirror mastic or tile adhesive around the back edges of the mirror. After adhesion, it is important to use silicone around the entire perimeter.


OmegaMirror
DuraMirror™
OmegaMirror Specifications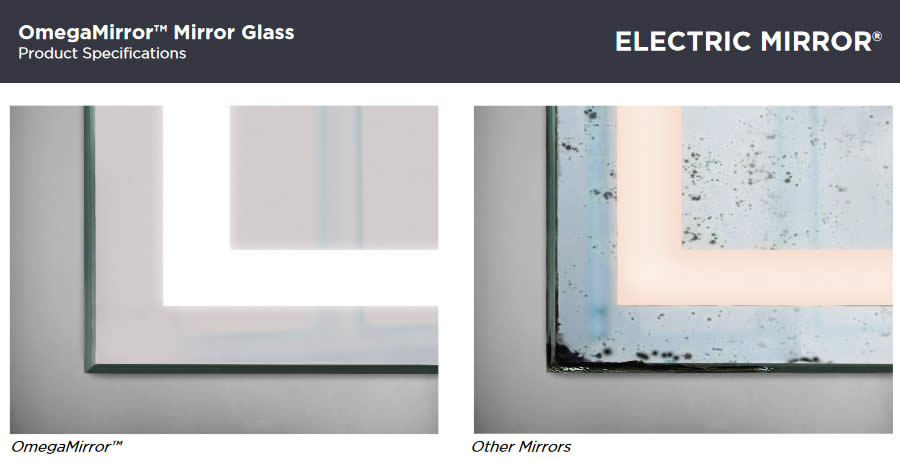 Product Description
OmegaMirrorâ"¢ is the longest lasting, most eco-friendly mirror glass available, providing outstanding performance and the lowest total cost of ownership.
Specification Statement
Mirror glass shall have a lead-free, copper-free composition, and be engineered to withstand the corrosive elements associated with humid environments. Mirror must be CASS Tested1 by a Nationally Recognized Testing Laboratory (NRTL) and certified to offer at least 480 hours of essentially faultless performance, free from black-spot, edge rot, ghosting and other signs of degradation. Mirror must be backed by a ten-year warranty as evidence of superior performance.
Features and Benefits
Six times longer life than other mirrors
CASS Tested to 480+ hours of faultless performance
Resists black spot, edge rot, and mold corrosion
Minimizes or eliminates replacement mirror expense2
Lead-free and copper-free
Emits virtually no volatile organic compounds
Environmentally sustainable
10-year limited warranty3
Durability Texting
Independent NRTL CASS Testing
Ongoing internal CASS Testing at Electric Mirror
Acid Resistance Test
Alkaline Resistance Test
UL Adhesives Test
Mechanical Shear Test
3
Some restrictions apply.
About Electric Mirror
Electric Mirror is leader, globally, in Lighted Mirrors and Mirror TV Technologyâ"¢. They have been serving hospitality and residential customers for over sixteen years with product lines that include Lighted Mirrors,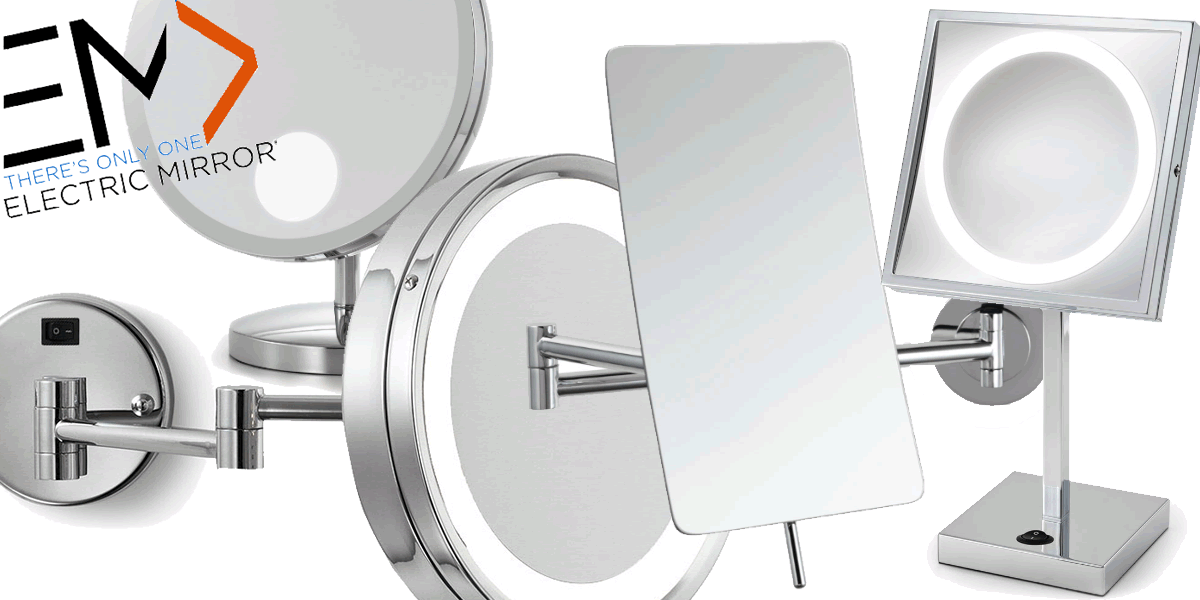 Mirror TVs, Waterproof TVs, Mirrored Cabinets, Corridor Lighting, Wardrobe Mirrors, and
Makeup Mirrors
.  Electric Mirror's mirrors are sold in every continent and in scores of countries around the world.
Selecting Electric Mirror, you can take an important step in reducing your carbon footprint and at the same time, beautifying the world in which we live.  The Electric Mirror commitment to the environment has given rise to their Beautiful World™ Initiative comprising environmentally-friendly technologies that result in products that cut energy costs and maintenance requirements.
Electric Mirror's makeup mirrors easily communicate their flawless luxury to discerning homeowners and hotel guests around the world.
Headquartered in Everett, WA, Electric Mirror employs over 350 individuals.
Installation Summary
Aqua II Installation