Miroir Brot Star 6-Sided Panoramic LED Makeup Mirror
$6,696
A
large, beautiful, LED-lighted mirror by Miroir Brot, "Star" is brightly lit by 4,000k LEDs in two vertical arrays from the sides of the 11.2" wide central mirror. All six surfaces of the Star are mirrored with silver-backed mirrors. The wings fold up to a compact 11.8" and the backs of the wings are mirrored as is the back of the central mirror. This all sits on a heavy padded base in white marble or clear glass. Six impeccable finishes for the metal frame are available.
Shipped FREE directly to you from the Chateau Landon, France factory via DHL International Express. "A" This is a very, very special mirror, meticulously custom made. Shipment to you will occur in up to 90 days.
Features
Miroir Brot's Prestige "Star" creation; a custom-made free-standing Makeup Mirror is fabricated in France and shipped FREE to you via International Express - FedEx or DHL.
PHOTO is for reference only. Please refer to the description and title for finish and speciications. Every surface is mirrored: Central mirror, front and back, and both wings, front and back. LED lighting at sides of the center mirror, at 4,000k.
The frame and mount are beautifully crafted with an impeccable finish, and the mirror is of highest-quality mirror glass, with pure silver backing for a crisp, bright reflected image.
The frame is plated solid brass - impossible to rust - with a flawless finish applied. The Wings adjust easily from fully open to fully closed.
Overall Height: 21.4". Mirrors and Wings: 15.75" High. Open: 32.5" Maximum Width. Closed: 11.8" Minimum Width. Center Mirror: 11.8" Wide. Each Wing: 10.4" Wide. Base: 14.6" Wide x 6.7" Deep.
6 custom finishes available with choice of base in heavy witte marble or thick clear glass. US Plug and Voltage - switch on cord. Time to manufacture varies from 30 to 75 days. 1-Year manufacturer's warranty.
Mirror Finishes
30+ Miroir Brot Finishes
About Miroir Brot
In the archives of the Manufacture de Saint Gobain, in the 18th century it can be found that Francoois Brot, a mirror maker in the court of King Charles X, founded Miroir Brot in 1826. Brot was a craft professional of the highest caliber and distinction, a visionary, able to interpret new aesthetic aspiration. In the heart of the Old Paris, near the historic Place de la République, Miroir Brot almost immediately achieved a great degree of success becoming the preeminent manufacturer it its field, both in France and throughout Europe.
Brot invented and patented the Triptyque in 1875 - an innovative mirror that displays reflections on three panels. It was a completely revolutionary mirror that instantly obtained world-wide notoriety. Connoisseurs referred to this ground-breaking mirror simply as 'un miroir Brot'.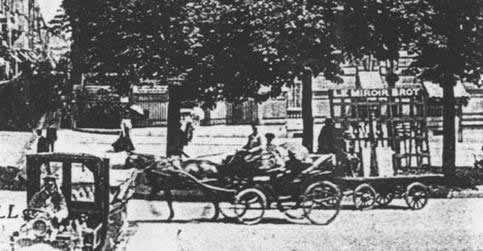 In 1927 Brot made another breakthrough, designing and inventing the first illuminated mirror - the "Mirophar".
Although the initial thrust was to equip automobiles, it was in luxury hotels that Mirophar acquired its fame. Rather than a cheap gizmo, the amenity brought to the hotel guest more than he expected for a meticulous make-up application or shave - especially with advancing age and declining eyesight.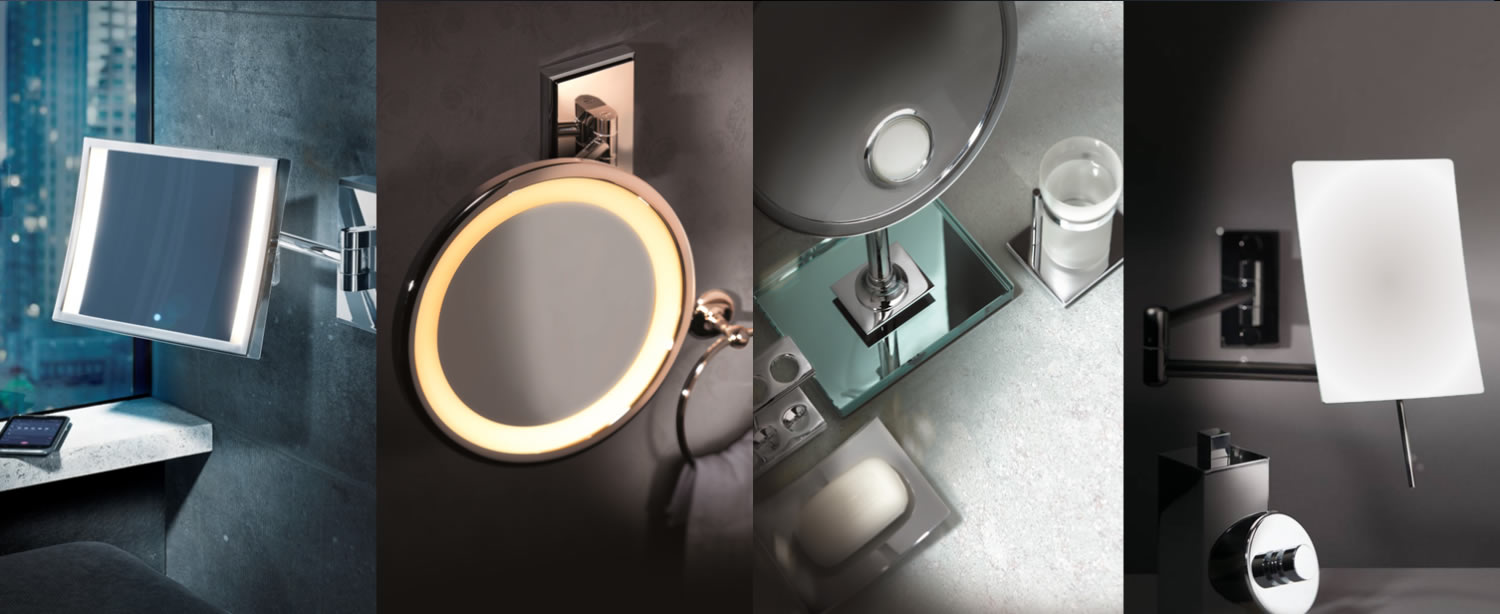 The "spotlight" was revolutionary and designed into the mirror surface, prevented the mirror from fogging.
Now under Maitres Robinetiers de France, and still manufactured near Paris after almost two hundred years, Miroir Brot carries on the age-old tradition of glass and copper brass working. Brot master glassmakers and brass craftsmen, following ageless techniques and know-how, create a wonderful and prestigious collection of mirrors.
The consistent and unequaled quality of Brot's mirrors still sets the standard for the world.
The Art of the Manufacture
The Art of Finishing
Through 175 years, from 1826 and through 1999, the Maison Brot manufactured only the finest magnifying mirrors. Today, Maitres Robinetiers de France has assumed the manufacture of the Miroir Brot collection - still the standard of the. To attain this degree of quality, four steps of meticulous processing are required.
Polishing to obtain a perfectly smooth surface:
To produce a shiny mirror that's flawless and totally smooth, polishing is an indispensable technique used to make Brot mirror finishing unique, homogeneous, shiny, and free of porosity.

To obtain the desired result, the polishing drums technique is used: The part to be polished is hand-held against the surface grinding and polishing wheels with discs of various materials including cotton, sisal, tampico, rope, and composite synthetic fibers. The wheels rotate at a high speed of approx 9,750 ft/minute and are generally coated with polishing paste.

Nickel Electroplating: The fusion of aesthetics and technology.
The electrolytic nickel plating is the most important step. Before a final finish can be applied, the nickel plating forms a barrier against corrosion.


Galvanic technique:
Galvanic electroplating is used to electrolytically deposit metals on substrates prepared in advance. Through this process high-end and noble metals are applied to Miroir Brot arms, brackets, and frames. Metals examples are chromium, nickel, and gold.

This technique has the end result protection of Miroir BROT mirrors against corrosion, and oxidation - whether by contact with air or moisture; and gives a protection against aging.

Miroir BROT uses this technique for its decorative effect to give BROT mirrors the aesthetic properties that make artistic elements, and decorative designs for your home.

Gilding: The symbol of wealth.
Gold is still considered the symbol of wealth and luxury. Gold is soft, ductile, and malleable. It is principally used for decorative effect, but as a noble metal it has an extraordinary resistance to oxication and corrosion. Miroir Brot as point of honor, maintains this symbol of wealth by using pure 24 carat gold for its gold finished products.