ClearMirror LED Lighted, Heated Fog-Free Shower Mirror - Total Luxury in the Shower
$995
I
magine this heated and lighted fogless shower mirror glowing softly in your morning shower, while you shave or remove your makeup in the warmth of the shower. The mirror installs flush to the tile adding a luxurious look to your shower. It's heated and LED-lighted with 5,300° Kelvin daylight LEDs and remains fogless even in the steamiest of showers or even steam rooms, allowing clear vision of the smallest details.
The way it works is that there's a low-voltage electrical mirror defogger permanently adhered to the rear of the mirror, warming it, and keeping it condensation-free. Can you be "zapped"? Not with the Shower Clear Mirror. The heating element operates on a 24 Volt low voltage system, so it's perfectly safe. It's UL approved and C-UL approved plus tested to CSA international standards - triple assurance of the safe design. The ClearMirror is installed in the wall to be flush with the tile surface. The ShowerLite ClearMirror carries five-year manufacturer's replacement Warranty against product defects. Three sizes: 12" x 12", 18" x 18", or 24" x 12" (mount horizontally or vertically).
The ShowerLite ClearMirror is shipped complete with a 24-volt transformer, clear installation diagrams, detailed instructions and an installation template.
Features
Sinc 1999 the ClearMirror ShowerLite fog-free electrically lighted and heated mirrors have been working miracles in the shower, remaining both lighted and fog-free while installed flush with the shower tile.
Select 3,000k - very close to regular light bulbs, or 5,000k - very close to white light daylight.
This patented mirror is low-voltage heated for safety, yet heats up in 3 minutes. The LEDs. at 5,000 degrees Kelvin have a CRI (Color Rendering Index) of 95 - you can't get much better. And they're rated for 70,000 hours 96 years - 2 hours a day.
The low voltage transformer (12 Volts) is included as well as a mounting template and detailed installation instructions. Class 2 plug in power supply, with 40 foot leads to simplify wiring.
High-quality 1/4" Mirror - - Sizes: 12" x 12" (actual 11-7/8" x 11-7/8") - 14 Watts, 18" x 18" (actual 17-7/8" x 17-7/8") - 26 Watts, 24" x 12" (actual 11-7/8" x 23-7/8") - 26 Watts.
Made in the USA and extensively UL tested and approved for showers and steam showers, plus C-UL, and CSA approved; safe low-voltage operation. - 5-year Manufacturer's replacement warranty.
About CRI
Color Rendering Index (CRI)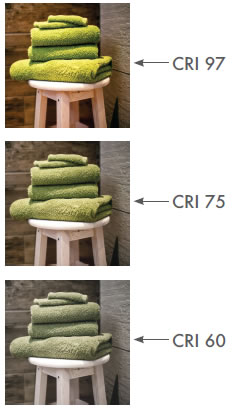 The color rendering index (CRI) is a measure of the ability of a light source to display the colors of various objects faithfully when compared the a natural light source. Light sources with a high CRI value are desirable in color-critical applications such as neonatal care and art restoration. Generally the higher the CRI, the more pleasing to the eye.

The highest possible CRI value is 100 and is frequently achieved by incandescent or "regular" light bulbs. Fluorescent "cool white" bulbs have a CRI of around 50 to 60, but some high-end multi-phosphor fluorescents can go up to 98. LEDs typically have an a CRI around 80, and better, more expensive LEDs can have CRIs up to 97 or 98.


Installation Instructions
Clear Mirror Shower-Lite Installation Instructions