Cristal&Bronze Bambou Tumbler and Perfume Bottle by Frank Benito - 27 Finishes
$1,434.44
K
nown the world over, Cristal&Bronze of France makes the finest in bathroom and boudoir accessories. Each piece is custom made by hand. Finishes are impeccable, as are the crystal components. In the Bambou series by Frank Benito, the glass is frosted in a semi-random bamboo-like pattern. Each piece is custom made for you in one of 27 finishes and shipped in about 7 weeks via FedEx International Express. Some ship sooner.
Features
Frank Benito's Cristal&Bronze Bambou series is characterized by the allusion to bamboo by the patterning in the crystal of each piece. PHOTOS are for reference only. Please refer to the description and title for finish and speciications.
The Bambou series can be fabricated in 27 impeccable finishes according to your preference.
Tumbler Diameter 2.75" x 4.9" High, including the ball feet. The capacity of the perfume bottle si 360ml or 12.2 fl. oz. and it measures 3.15" in Diameter x 7.5" Tall.
Each piece is custom made for you by hand, in Chateau-Landon, a medieval town near Paris, France.
Cristal & Bronze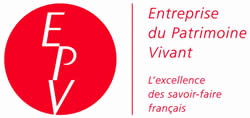 Joining the inner circle of French companies with outsanding craftsmanship and manufacturing expertise, in 2013 the French government awarded Cristal et Bronze the coveted "Entreprise du Patrimoine Vivant" label. This certification is in recognition of its heritage acquired through manufacturing experience, its knowledge of old-world techniques, and its ongoing search for innovation through technological progress.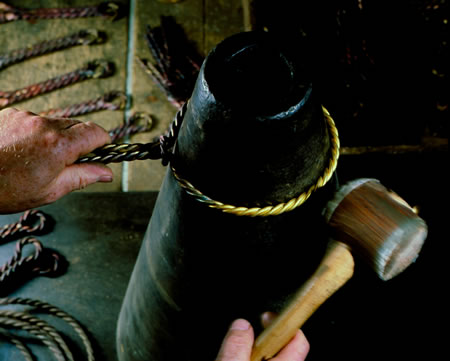 Cristal & Bronze was founded in 1937 in Paris, France. Today its workshop is located in a medieval village near Paris - Château-Landon - where each piece is custom made by hand. Skillful craftsmen, trained in traditional metalworking techniques lend their extensive know-how to the process. It can seen through the impeccable quality of the products they make - especially pronounced through their perfect finishes, including amongst others, gilding and patinas.

Bath Accessories: In response to worldwide requests for high quality bathroom projects, Cristal & Bronze has developed a strong selection of towel hangers, mirrors, perfume atomizers, soap dishes, etc. The materials used are of the highest caliber brass, cut crystal, and obsidian.
Finishes
Some finishes are not available in certain items.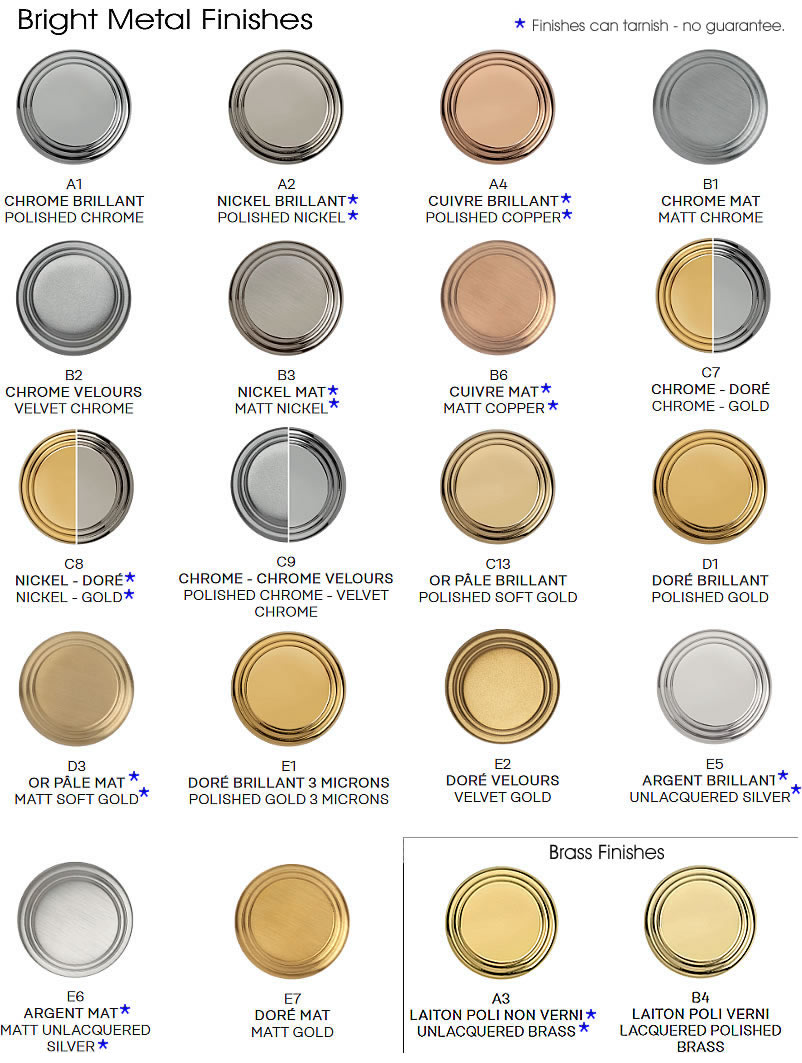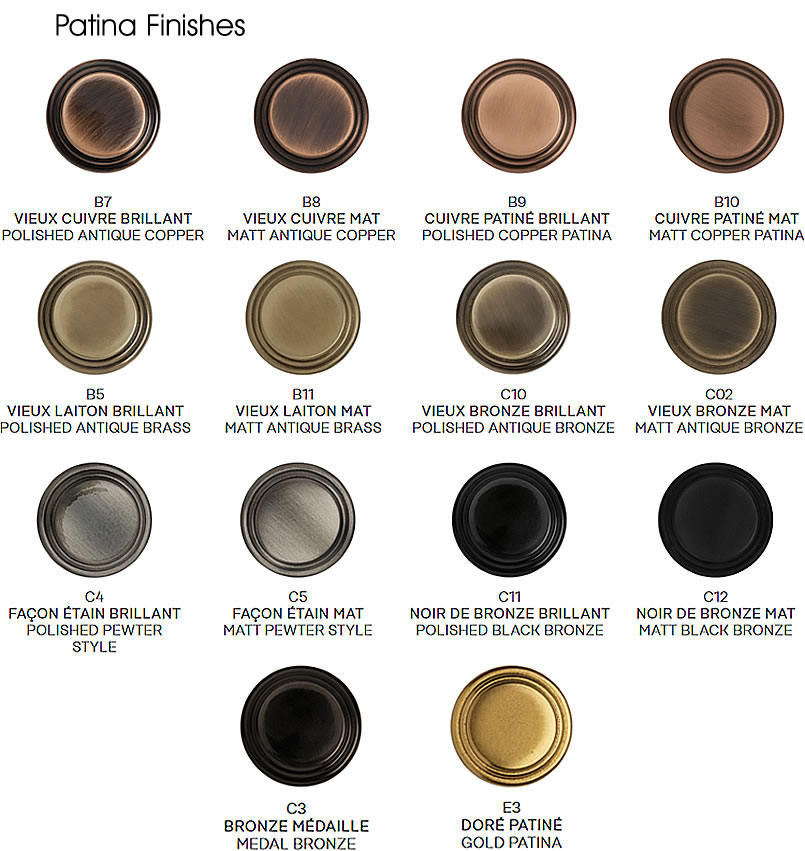 Frank Benito and Cristal&Bronze
Frank Benito and the Cristal&Bronze Collection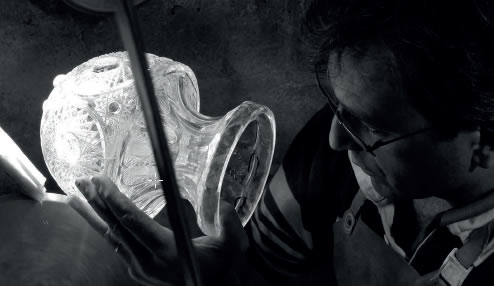 R
enowned craftsman Frank Benito was chosen by Cristal&Bronze to revisit the classic Cristal&Bronze collections. The "Nid d'abeilles" and "Bambou" collections have booth originated in Frank Benito's workshop. The patterns are transposed with a brush or felt pen onto the crystal. They are then cut with exacting precision using a time-honored freehand technnique using cork or sandstone grinding wheels. This is all done by hand, enabling the fascinating effects of light, transparency, and reflections.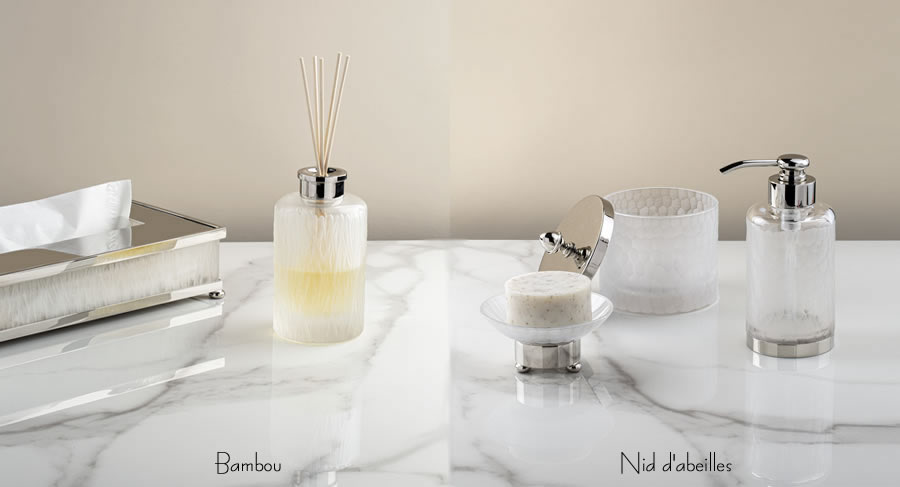 Hotels
Cristal&Bronze proudly in use at these fine hotels.
| | |
| --- | --- |
| Four Seasons Hotel George V | Paris |
| Le Bristol | Paris |
| Le Meurice | Paris |
| Ritz | Paris |
| Sangri-La Hotel | Paris |
| Hotel du Cap-Eden-Roc | Antibes |
| Annabel's | London |
| The Ritz | London |
| Hotel Metropole | Brussels |
| Royal Mansour Spa | Marrakech |
| Beau-Rivage Palace | Lausanne |
| The Pierre | New York |
| Four Seasons Hotel | Alexandria |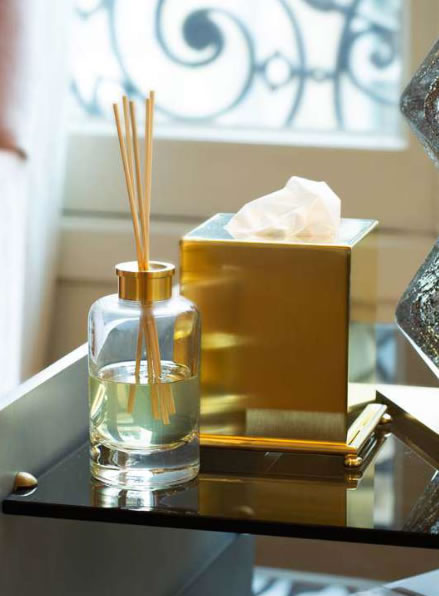 Matching Mirrors
Cristal&Bronze Mirrors in 34 Finishes to perfectly match
your Cristal&Bronze bathroom accessories.