ClearMirror LED CLEARLITE Top Lighted Vanity Mirror is Fog-Free and has a (CRI) of 94+
$1,495
T
here are backlit mirrors and there are backlit mirrors. The ClearMirror Clearlite™ top-lighted bathroom mirror has a plethora of features. The LED panel is super-thin at only 4mm - rendering complete and even coverage. The LEDs are high-output and rated for 70,000 hours of use - 96 years at two hours per day. The CRI is very high - 95+, and the color temperature is 5,300k - "blue sky" daylight. The mirror itself has a 6mm thickness with and overall thickness for the unit of less than an inch. There are polished edges and a frosted LED illumination section inset from at the top. Using ClearMirror fog-free technology, the mirror remains fog-free. There's a dual mounting system for easy installation - use the mounting holes or Z-hanger. 24" Wide x 36" High, UL Listed, Made in the USA and covered by a 5-Year Replacement Warranty.
Custom sizes available - contact us for information.
Features
ClearMirror's CLEARLITE™ is a backlit mirror with a frosted panels at the top, emitting high-output LED lighting at 5,300 degrees Kelvin which is very close to "blue sky" daylight.
The LEDs. have a CRI (Color Rendering Index) of 94. You can't get much better. And they're rated for 70,000 hours 96 years - 2 hours a day. No hot spots, and no dead spots. Using ClearMirror fog-free technology, the mirror remains fog-free.
Panels are sealed and moisture-proof. Installation is just like an ordinary wall-mounted light fixture. The mirror is hardwired and can be wired into the regular bathroom light switch or a separate switch.
The mirror edges are flat polished Overall, the mirror depth is under one inch and the overall size is 24" x 36". Mounting can be achieved via the mounting holes or the Z-bracket included.
Made in the USA and extensively UL tested and approved for use over vanities, plus C-UL approved. Meets California Title 24 requirements. A 5-Year Manufacturer's REPLACEMENT warranty is included.
About CRI
Color Rendering Index (CRI)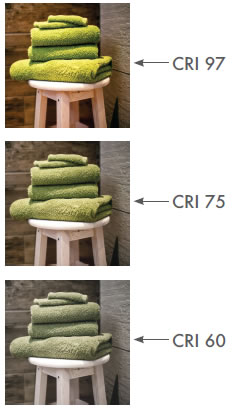 The color rendering index (CRI) is a measure of the ability of a light source to display the colors of various objects faithfully when compared the a natural light source. Light sources with a high CRI value are desirable in color-critical applications such as neonatal care and art restoration. Generally the higher the CRI, the more pleasing to the eye.

The highest possible CRI value is 100 and is frequently achieved by incandescent or "regular" light bulbs. Fluorescent "cool white" bulbs have a CRI of around 50 to 60, but some high-end multi-phosphor fluorescents can go up to 98. LEDs typically have an a CRI around 80, and better, more expensive LEDs can have CRIs up to 97 or 98.


3,500k vs. 5,500k
Color Temperature Comparison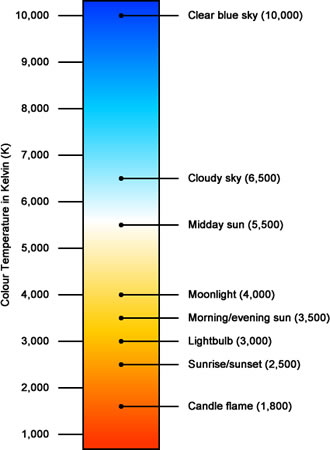 Color Temperature is not Brightness Color temperature describes the color of the light.

The color temperature of any light bulb, including LEDs is measured in degrees Kelvin ("K").  The higher the color temperature, the closer the light is to pure white light at 10,000° K.  A blue sky sunny day at noon has a color temperature of about 5,500° K.  A very bright cloud-covered day, where the sky registers a color temperature of about 6,500° K., while a "regular" incandescent light bulb has a color temperature of about 2,700° K.

The color temperature of the lighting in your mirror may affect the way people see you in different situations.  It's best, therefore, to choose a lighted makeup mirror with a color temperature to approximate your most frequent environment.

Many of our LED mirrors have their color temperature specified. And some makeup mirrors have adjustable or switchable color temperatures.  For those where color temperature is not specified a reasonable guide is this: For incandescent bulbs, a color temperature of around 3,000° K. is normal.  Fluorescents and LEDs with no color temperature specification have color temperatures around 4,600° K. The chart below can serve as a guide.
If you're planning for an outdoor day, the higher the color temperature the better. For evenings on the town, 2,700&deb; K. to 3,500° K. is best. For office environment lighting conditions, color temperatures around 4,500° K. provide the closest match.