Electric Mirror Elixir Hardwired Square LED 5x Makeup Mirror
$475
$398.67
E
lixir™ (EMHL 88 SIL) is an 8" square hardwired makeup mirror, with a square "halo" of frosted LED lighting, 5X magnification, and the available finishes include your choice of polished chrome or brushed nickel. The LEDs illuminate at 3,000 degrees Kelvin - which is almost indistinguishable from indoor lighting.
Hardwired mirrors should be installed by a licensed electrician.
Features
Electric Mirror Elixer free-standing vanity mirror with an 8-inch square face. The magnification power is 5x - not reversible.
The mirror is illuminated by bright LEDs arranged in around the edges all around the viewing area. The LED square-halo lighting is at 3,000 degrees Kelvin - that's virtually identical to indoor lighting.
This high quality mirror has its on/off switch on the mounting plate, saving the expense of installing a separate electrical wall switch. And it's more convenient.
Two finishes are available - Polished Chrome and Brushed Nickel.
The mounting plate is 4.72" square following through on the square motif of the mirror itself. The mirror can be brought out to 15.8" from the wall, and folded back "flat" to the wall, the face is 4.55" from the wall.
The mirror is UL Approved in the US and Canada and is covered by a 3-Year Manufacturer's Warranty.
Hardwire Installation
Electrician's Hardwired Makeup Mirror Mounting Instructions
•  Hardwired mirrors should be installed by a licensed electrician in accordance with local codes.

•  We strongly recommended that installation only be done when the mirror itself is present, and the actual user is available, in order to set the most convenient mounting height.

•  Install a 4" octagon box on a GFCI line or on a line where a GFCI outlet is installed, or both.  The box should be flush with the mounting surface at a height determined by the user.  The box should be capable of supporting 15 lbs.  The mirror doesn't weigh 15 lbs., but remember it may be on an arm as long as 20".  Note that the center of the mirror is usually 1/2" to 6" higher than the mounting-plate center.   All of our hardwired makeup mirrors have the switch contained within the mirror mounting plate, mirror base, or mirror housing.  No other switch is required.  Also note that each of our single and double arm wall mirrors tilt vertically and swing horizontally.

•  Hardwired mirrors, once wired, are no longer eligible for refund.
About Electric Mirror
Electric Mirror is leader, globally, in Lighted Mirrors and Mirror TV Technologyâ"¢. They have been serving hospitality and residential customers for over sixteen years with product lines that include Lighted Mirrors,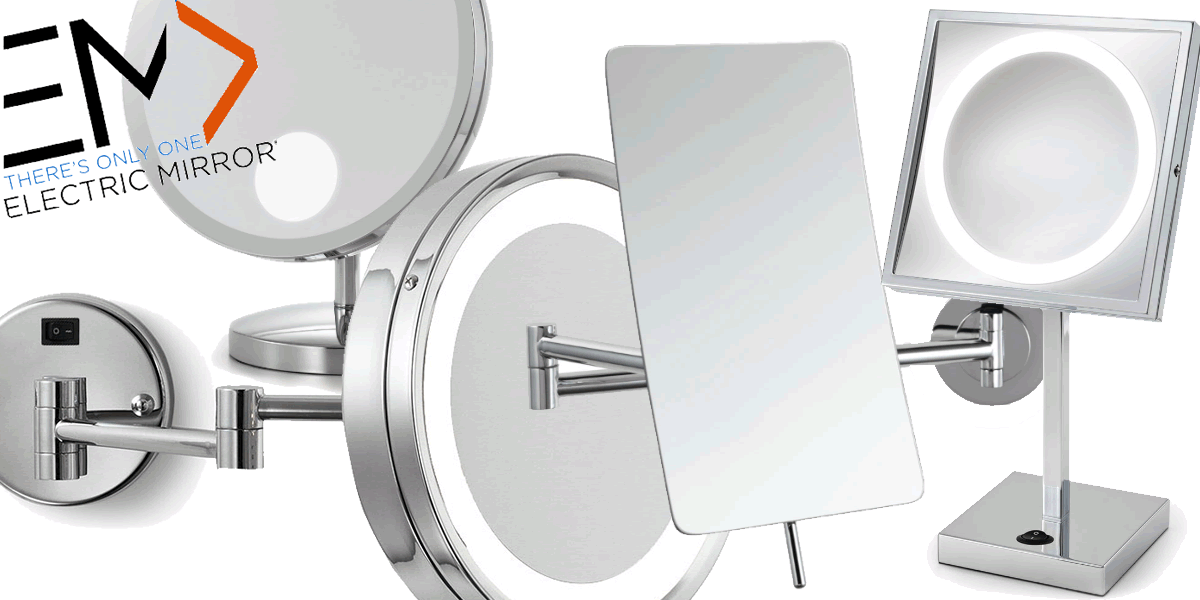 Mirror TVs, Waterproof TVs, Mirrored Cabinets, Corridor Lighting, Wardrobe Mirrors, and
Makeup Mirrors
.  Electric Mirror's mirrors are sold in every continent and in scores of countries around the world.
Selecting Electric Mirror, you can take an important step in reducing your carbon footprint and at the same time, beautifying the world in which we live.  The Electric Mirror commitment to the environment has given rise to their Beautiful World™ Initiative comprising environmentally-friendly technologies that result in products that cut energy costs and maintenance requirements.
Electric Mirror's makeup mirrors easily communicate their flawless luxury to discerning homeowners and hotel guests around the world.
Headquartered in Everett, WA, Electric Mirror employs over 350 individuals.