Electric Mirror Loft TV Mirror with 21.5" LED HDTV - It Becomes Invisible When Off - 4 sizes
$5,440
$4,352
A
dd an upgrade to your bathroom with a contemporary and impressive Loft™ TV Mirror by Electric Mirror. Watch entertainment, sports, news, and more, while the TV mirror doubles as an attractive centerpiece.
The TV is completely contained within the 1.75" thickness of the mirror. And the TV is an up-to-date 21.5" LED HDTV (729p/1080i ) with a waterproof Remote Control. The TV image is seen though the mirror via Electric Mirror Spectrum™ Technology, and disappears almost completely when the TV is turned off. See the TV Specifications in the Features tab below left.
The mirror is UL listed in the USA and Canada and comes with a 7-year manufacturer's limited warranty.
All sizes 1.75" Deep. TV consumes 25 Watts when on.
30" x 40" high
40" x 40" high
50" x 40" high
60" x 40" high
The Loft™ TV Mirror is also available with a
15.6" TV.
Custom options - 8-10 week delivery. Call us for information and pricing

866-866-5552
.
B-Series™ Mirror Glass.
Bose™ Ceiling-mount speakers - flush white.
Clone Box
Custom Sizes
Features
Copper-free, corrosion-resistant Dura-Mirror glass with elegant LED lighting and Spectrum™ and DuraMirror™ Mirror Glass.
Safety-backed mirror.
21.5" Electric Mirror LED HDTV.
720p / 1080i 16:9 widescreen ratio. 50,000 hour panel
ATSC/NTSC/QAM TV Tuner.
Left/right out and Line-Level audio out.
HDMI, RF, and component connections.
Waterproof remote control.
10 watts per channel amp. with integrated state-of-the-art mini speakers for high-quality stereo sound.
Easy-fit TV mounting solution. Removable power supply. Complete Installation instructions included.
Shipped FREE in about 1 week. 7-year Manufacturer's Limited Warranty. UL listed in the USA and Canada.
DuraMirror™
DuraMirror™
The Only Mirror Made Specifically for the Bathroom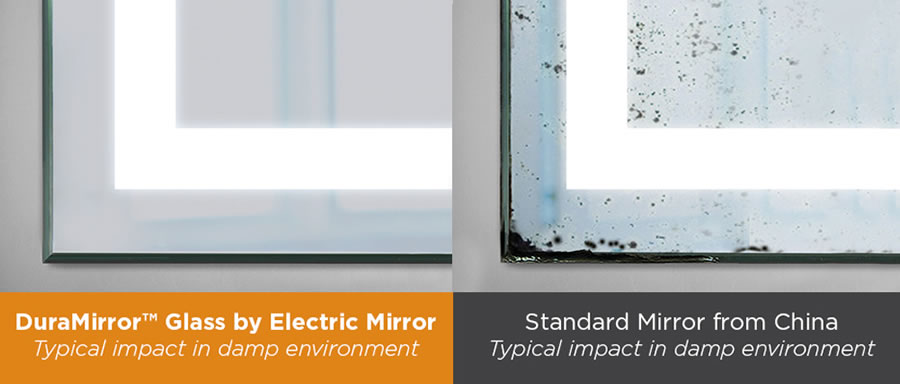 Mirror Corrosion
  As soon as a mirror is installed corrosion begins naturally due to oxidation. This is especially true in a bathroom where high humidity and poor ventilation accelerate the process. Ammonia-based cleansers accelerate the process even further. Soon, unsightly black corrosion begins to appear at the edges of the mirror. Black spots and clouding eventually follow producing an unsightly mess.
DuraMirror™ is made to resist the black edges and the de-silvering caused by high-humidity and the effects of some cleansers. Overall, the total effect of DuraMirror™ also reduces the environmental impact of (replaced) mirrors in our landfills.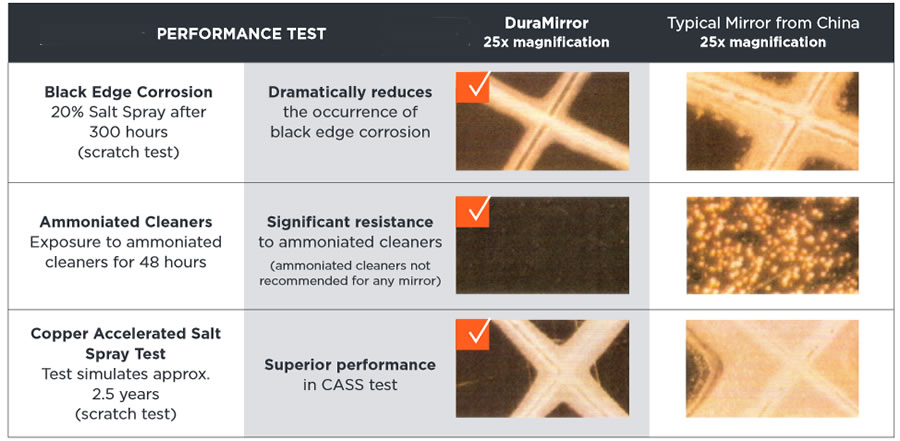 Spectrum™
Spectrum - by Electric Mirror
Best in bathrooms that are not all-white or overly bright. Spectrum™ is an excellent choice for application of makeup and daily preparation.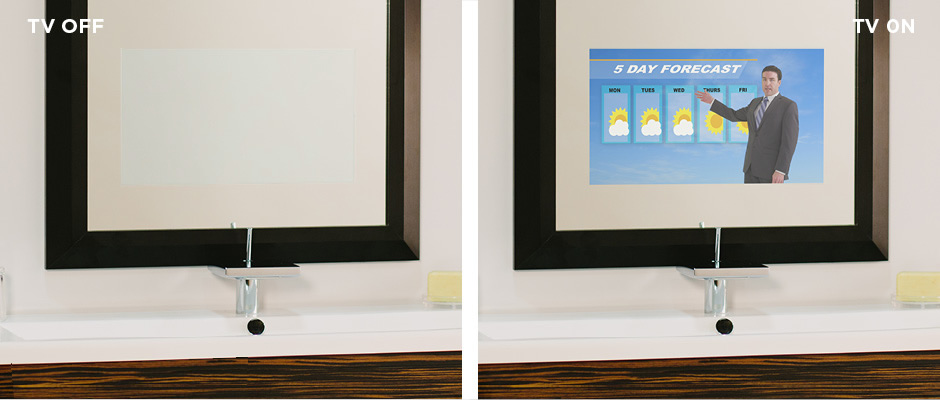 Spectrum™ mirrors provide a good TV image when on, and the mirror itself has a highly reflective surface. When the TV is turned off, the area where the TV appeared is well camouflaged, leaving only a light gray image where the TV used to appear.

If you have an all-white or very brightly lit bathroom, you probably need the "B-Series", a custom option. Contact us for more information and pricing.  
B-Series™ Option
B-Series™ - a Custom Option by Electric Mirror
Made for bathrooms that are either all-white or brightly colored, the B-Series™ option delivers a crisp, clear viewing experience with reduced glare..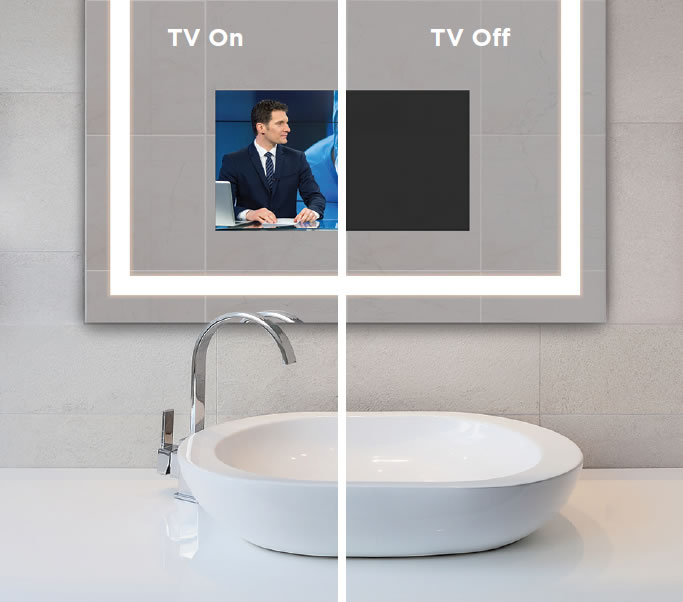 B-series™ mirrors have a highly reflective mirror surface, and when turned on, the TV image is impressively bright. Turned off, the area where the TV appeared is black.
This is a custom option - contact us for pricing and more information.  
866-799-9888
About Electric Mirror
Electric Mirror is leader, globally, in Lighted Mirrors and Mirror TV Technology™. They have been serving hospitality and residential customers for over sixteen years with product lines that include Lighted Mirrors,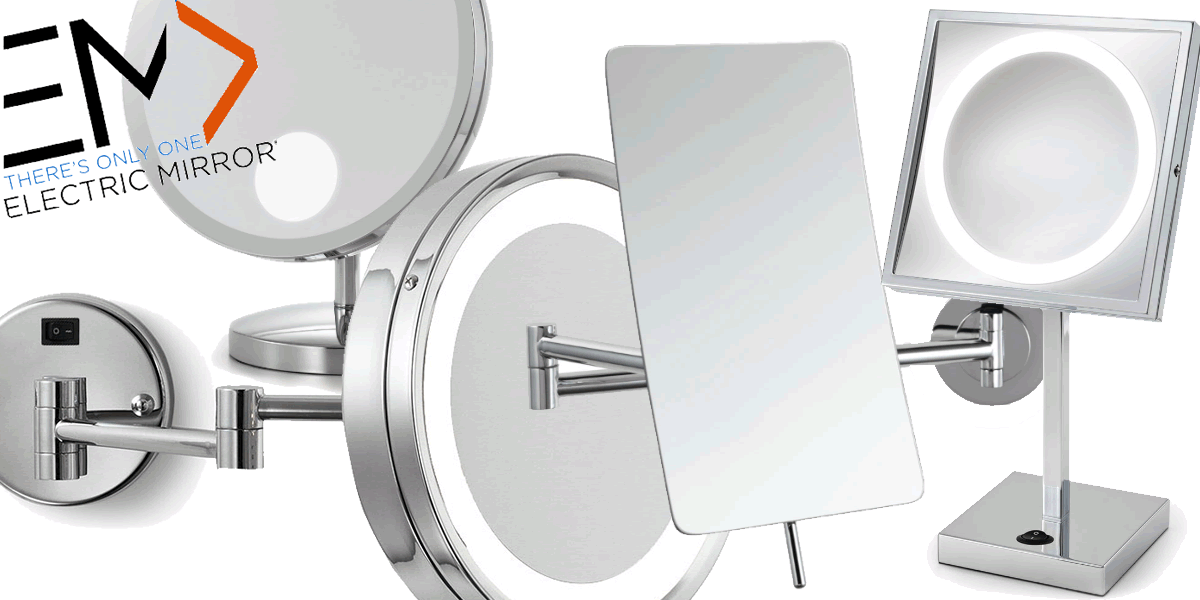 Mirror TVs, Waterproof TVs, Mirrored Cabinets, Corridor Lighting, Wardrobe Mirrors, and
Makeup Mirrors
.  Electric Mirror's mirrors are sold in every continent and in scores of countries around the world.
Selecting Electric Mirror, you can take an important step in reducing your carbon footprint and at the same time, beautifying the world in which we live.  The Electric Mirror commitment to the environment has given rise to their Beautiful World™ Initiative comprising environmentally-friendly technologies that result in products that cut energy costs and maintenance requirements.
Electric Mirror's makeup mirrors easily communicate their flawless luxury to discerning homeowners and hotel guests around the world.
Headquartered in Everett, WA, Electric Mirror employs over 350 individuals.
Installation Summary
Installation Summary - Electric Mirror Loft™ TV Mirror