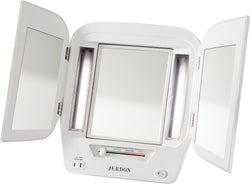 Jerdon Euro Style Tri-Fold 5x/1x Lighted Vanity Make Up Mirror - 4 Color Settings
$75
$66.50
T
he Jerdon Euro-Style Vanity Tri-Fold Two-Sided Lighted Makeup Mirror is a bathroom and makeup mirror with cool to the touch fluorescent lighting and adjustable side mirrors that fit nicely on your counter or dresser. The magnification is adjustable and the fluorescent lighting has settings to simulate a variety of lighting conditions.
Due to its tri-fold construction, numerous viewing angles are possible whereby this make up mirror will become the favorite for you beauty needs. The Euro makeup mirror has a sleek designer/contemporary look with a sparkling white finish to fit with any home decor. It stands by itself on your vanity, counter, or dresser with its folding stand and it can be folded flat for travel or storage. The fluorescent lighting can be adjusted to any of four settings to duplicate a variety of lighting conditions; day, evening, home, and office. The center mirror reverses from 5x magnification to 1x (no) magnification, so that you can be sure every detail of your hair and makeup are in place. There's even a 120-volt outlet in the front to accommodate curling irons, hair dryers, phone chargers, etc.
Features
Euro-style tri-fold vanity mirror folds flat for travel.
Fluorescent-lit with 4 settings: Day, Home, Office, Evening.
5x magnification central mirror flips over to normal view - no magnification.
Center mirror: 8" High x 6" Wide. Side Mirrors: 7.25" High x 4" Wide.
UL Listed in US and Canada. 1-Year Manufacturer's Warranty.
About Jerdon
Jerdon was founded in the latter half of the 20th Century - in the 1970's.  Although originally intended to serve the demands and needs of the hotel industry, the Jerdon Company evolved over the years to become a leading manufacturer and distributor of luxury beauty appliances and luxury bath products for the home.  The company is now called Jerdon Style which reflects its inspiration of elegance, relaxation, luxury and high quality.  Jerdon Style makeup mirrors are still found in the finest hotels as well as in cruise lines and luxury resorts all over the world.
Jerdon vanity makeup mirrors are perfect for both home and travel purposes, while Jerdon wall-mounted mirrors are perfect for the home.  The important parameters of beauty products include excellent lighting and magnification and both can be found in Jerdon's makeup mirrors; having earned Jerdon the Good Housekeeping award for the best overall makeup mirror.  Jerdon's microfiber spa robes featured by Martha Stewart and The Wall Street Journal have helped solidify Jerdon's leading place in the beauty and specialty bath industries.