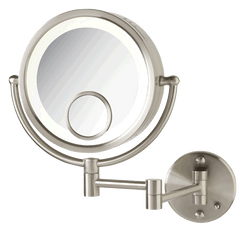 Jerdon 7x/1x Plug-In LED Makeup Mirror with 15x Spot Mirror
$144
$115.20
D
ouble sided with 7x and 1x magnifications, this plug-in wall-mounted makeup mirror has an 8.5" diameter.  Near the bottom of the 7x side, there's a 15x "spot" mirror for ultra-critical work.  The mirror swivels 360 degrees and the halo light arrangement around the circumference of the mirror is illuminated by 25 Watts of incandescent illumination - identical to the color of "regular" light bulbs.  See your perfect makeup application as you'd look at the ball!
Finished in satin nickel, the mirror extends up to 13.5 inches from the wall on its double swivel arm that pivots at the base plate and again at the elbow.  The mirror section rotates 360 degrees at the pivot and can be flipped over in its yoke.  It's easy to obtain the perfect viewing angle!
Features
Plug-in 7x / 1x reversible magnification makeup mirror. 25 Watt incandescent "halo" illumination - closest to room lighting.
8.5" mirror diameter. On the 7x side, there's a 15x spot mirror included for ultra-critical work.
Satin nickel finish - mounting hardware included. Double-swivel arm extension up to 13.5" from wall.
Rotary on/off switch on the mounting plate, not on the electrical cord.
UL listed, US and Canada. 1-Year Manufacturer's Warranty.
About Jerdon
Jerdon was founded in the latter half of the 20th Century - in the 1970's.  Although originally intended to serve the demands and needs of the hotel industry, the Jerdon Company evolved over the years to become a leading manufacturer and distributor of luxury beauty appliances and luxury bath products for the home.  The company is now called Jerdon Style which reflects its inspiration of elegance, relaxation, luxury and high quality.  Jerdon Style makeup mirrors are still found in the finest hotels as well as in cruise lines and luxury resorts all over the world.
Jerdon vanity makeup mirrors are perfect for both home and travel purposes, while Jerdon wall-mounted mirrors are perfect for the home.  The important parameters of beauty products include excellent lighting and magnification and both can be found in Jerdon's makeup mirrors; having earned Jerdon the Good Housekeeping award for the best overall makeup mirror.  Jerdon's microfiber spa robes featured by Martha Stewart and The Wall Street Journal have helped solidify Jerdon's leading place in the beauty and specialty bath industries.