ClearMirror Fogless Electrically Heated Permanent Shower Mirror - 4 Sizes
$495
S
have in the Shower with the Electrically Heated ClearMirror Fogless Shower Mirror.
Can you be "zapped"? Not with the Shower ClearMirror. The heating element operates on low voltage so it's perfectly safe. And it's UL Listed, C-UL listed, and tested to CSA international standards - triple assurance of the safe design. The patented design is installed in the wall to be flush with the tile surface. The Clear Mirror carries five-year manufacturer's Warranty against product defects.
The Shower Clear Mirror is shipped complete with a 24-volt transformer, clear installation diagrams, detailed instructions and an installation template. The Clear Mirror is available in 12", 16", and 18" square sizes, and a 24" x 12" rectangle.
Features
ClearMirror Fogless Shower Mirror is electrically heated, low voltage, and fog free. It's installed flush with the shower tile surround.
The mirror itself is highest-quality and the mirror defogger is pre-attached, heating the glass and keeping it fog-free in the shower.
Operated by your bathroom light switch, the mirror is low voltage for safety. 24-Volt Transformer Included
Four sizes - 12" x 12", 16" x 16", 18" x 18", or 24" x 12".
5-Year manufacturer's warranty. UL-listed. UL-C listed, CSA International listed.
Installation Instructions
Original Clear Mirror Installation Instructions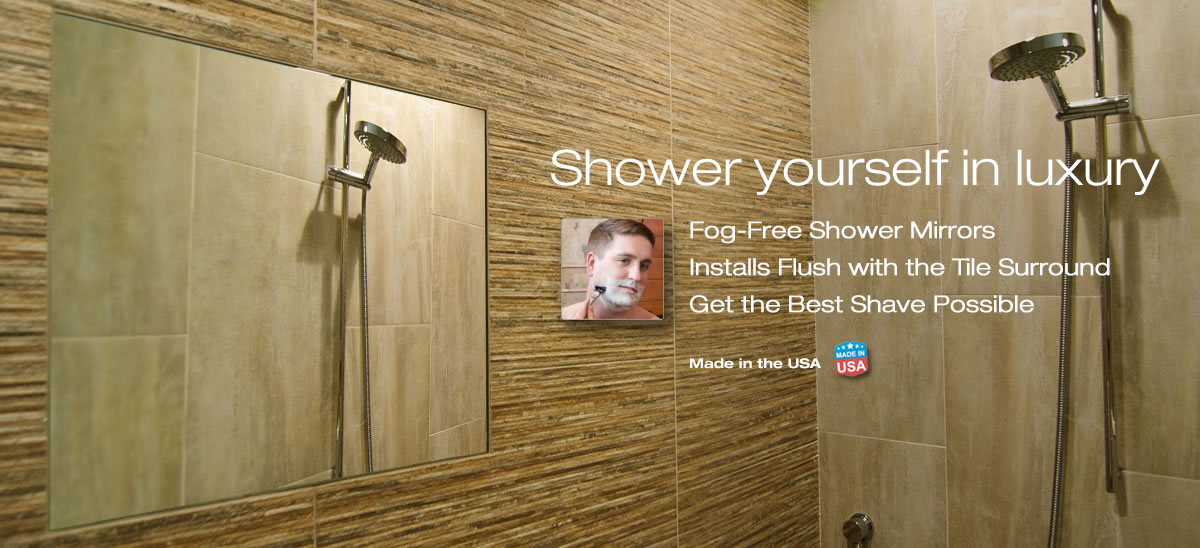 Installation Instructions