Need a Quick Ingredient Guide?
We've all heard it:  "Contains 'Ingredient XYX'".   And it's not explained.  We're expected to know what "Ingredient XYX" does, and why it's desirable.  Or do we just guess at it and think something like "I guess it's good..." 
Well... Shunly Skin Care has a set of succinct explanations for 19 skincare active ingredients.
To find it, within the Shunly Skin Care brand of skin care products, go to this or any Shunly page on our website:
https://reflectperfection.com/collections/skin-care-treatments/products/shunly-shunly-aha-deep-gel-cleanser#shunly-skin-care-fusion-formula
 Scroll down to see the link and click SHUNLY SKIN CARE FUSION FORMULA.
You'll see 20 hexagons like the ones below.  Excluding the hexagon second from, center, that looks like ocean water, the other 19 hexagons are links to short and comprehensive explanations of the following ingredients: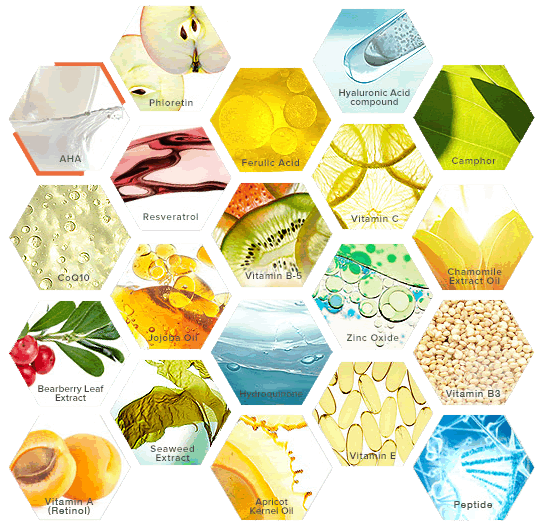 Phloretin
Hyaluronic Acid
AHA
Ferulic Acid
Camphor
Resveratol
Vitamin C
CoQ10
Vitamin B5
Chamomile
Jojoba Oil
Zinc Oxide
Bearberry Leaf
Bitamin B3
Seaweed Extract
Vitamin E
Vitamin A (Retinol)
Aprocot Kernel Oil
Peptide
Leave a comment